Can I Get Workers' Compensation If I Suffered a Burn Injury at Work?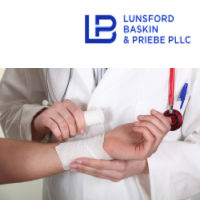 Burn injuries are common in the workplace, especially in Mississippi. These injuries are incredibly painful, and they frequently require employees to undergo expensive medical treatments and take time away from work. The US Bureau of Labor Statistics noted that there are around 20,100 workplace burn injuries every year that require employees to take a recovery period away from work.
Without workers' compensation, employees may have to pay out of pocket for their medical treatments and recovery. This can be especially financially draining if they're unable to work while they heal.
Fortunately, workers' compensation should cover any burn injuries you sustain while on the job, but receiving the full workers' compensation you deserve isn't always easy. Employers and their workers' compensation insurance companies frequently look for ways to deny or underpay workers' compensation claims in order to save money. If an insurance company unfairly denies your claim, you need to contact a workers' compensation attorney.
In this blog, we discuss what you need to know about Mississippi workplace burn injuries and recovering workers' compensation.
Burn Classifications
When suffering from a burn injury at work, employees can sustain a variety of different burns that differ in their overall severity. The following are the different burn injury classifications:
First-Degree Burns: First-degree burns, also known as superficial burns, only involve the epidermis, which is the skin's outer layer. These injuries are usually red, dry, and painful when touched. First-degree burns are painful, but they aren't incredibly serious, and they usually don't result in long-term tissue damage.
Second-Degree Burns: Second-degree burns are also called partial-thickness burns, and they impact the thick portion of the skin's second layer, the dermis. Second-degree burns frequently result in blistering and long-term scarring. These injuries may require victims to receive a skin graft.
Third-Degree Burns: Third-degree burns are also called full-thickness burns, and they frequently require multiple surgeries and skin grafts. These burns destroy the epidermis and can cause damage deep into your hypodermis, which is the bottom layer of your skin. This can also damage your tendons, muscles, and even your bones. Additionally, these injuries can destroy your nerve endings and cause your skin to appear white.
Fourth-Degree Burns: Fourth-degree burns destroy every layer of the skin, making them the most life-threatening type of burn. They can also destroy tendons, muscles, and bones. Victims of fourth-degree burns may require their afflicted area to be amputated.
Types of Workplace Burn Injuries
There are four main types of burn injuries employees can suffer from in the workplace. These include UV light burns, radiation burns, chemical burns, electrical burns, and thermal burns.
UV Light Burns: UV light burns are more frequently referred to as sunburns. These are common for those working outside and only result in first-degree burns. Those working outside for extended hours need to protect themselves from UV light burns through protective clothing and sunscreen. Sunburns can increase one's likelihood of developing skin cancer.
Radiation Burns: Those exposed to nuclear radiation can suffer from radiation burns. Employees need to protect themselves from these serious burns by following their workplaces' safety protocols.
Chemical Burns: Chemical burns involve exposure to dangerous, corrosive materials, including acids and solvents. These burns can deteriorate the impacted area, which could include the eyes or skin.
Electrical Burns: Employees working with electric currents can suffer from serious burns. These burns can result from faulty wiring or dangerous electrical equipment.
Thermal Burns: Thermal burns occur when someone is exposed to heat. They can result from explosions, steam, hot objects, hot liquids, and open flames.
Recovering Compensation From a Burn Injury at Work
Many different types of workers are at risk of suffering from burn injuries, including construction workers, food-service workers, firefighters, mechanics, electricians, radiation workers, and other occupations.
If you've suffered from a burn injury at work, you have every right to receive workers' compensation as long as your employer has workers' compensation insurance. Workers' compensation covers treatments and expenses related to workplace injuries including doctor visits, surgeries, medications, physical therapy, in-home care, and more.
Additionally, workers' compensation covers a percentage of your lost wages if you're unable to return to work after a burn injury. You can receive ⅔ of your pre-injury earnings temporarily while you recover, or you can receive these benefits long-term if your injury permanently disables you. Mississippi employees can receive 450 weeks of lost wages benefits after suffering from a burn injury that keeps them from working.
Contact a Mississippi Burn Injury Lawyer
Although receiving benefits after a workplace injury should be a straightforward process, your employer or their insurance company may attempt to deny or underpay your benefits. If your benefits are unfairly denied or underpaid, you need a workers' compensation attorney to help you receive the benefits you're entitled to. For expert legal guidance in workers' compensation cases in Mississippi, contact the lawyers at Lunsford, Baskin, & Priebe, PLLC. We have years of experience assisting Mississippi residents with workers' compensation claims. Call our Jackson office today at 601-983-2667, or you can schedule a free case evaluation by clicking here.