How Construction Workers Can Avoid OSHA's Fatal Four Injuries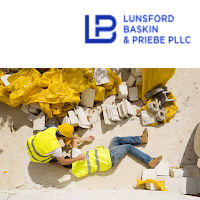 Construction is considered one of the topmost dangerous industries to work in. Every day, construction workers put their lives at risk by performing dangerous tasks and exposing themselves to hazardous situations. For this reason, the Occupational Safety & Health Administration (OHSA) has highlighted the four most fatal hazards and developed a construction Focus Four Training program to help prevent and reduce the number of incidents that occur every year.
However, despite safety standards and training, accidents can still happen. If you are injured in a construction accident, contact the experts at Lunsford, Baskin, and Priebe, PLLC., for help with your Mississippi or Louisiana workers' compensation claim.
What are the Fatal Four Construction Hazards and Injuries?
1. Falls
Injuries that result from falls are the most commonly reported type of injury in workers' compensation cases, especially for construction workers. Fall hazards are considered anything that can cause you to lose balance or stability, which then results in the body slipping or tripping and falling. OSHA lists the three most common causes of falls in construction as 1) Unprotected roof edges, roof and floor openings, and leading edges, 2) Improper scaffolding construction, and 3) Unsafe portable ladders.
2. Electrocution
Electrocution injuries occur when a worker comes into contact with high levels of electricity. Examples include contact with power lines, exposed wires, and defective electrical tools and equipment. Electrical hazards can cause burns, electrocution, shock, fires, explosions, and flashes or blasts of electrical energy.
3. Struck-By Incidents
OSHA defines struck-by incidents as those that produce injuries caused by "forcible contact or impact between the injured person and an object or piece of equipment." In other words, it involves a worker getting hit or struck by an object or piece of equipment. Struck-by hazards can include getting hit by a flying, falling, swinging, or rolling object.
4. Caught-In or -Between Incidents
Caught-in or -between accidents happen when a worker gets injured from being stuck, caught, or crushed between objects or pieces of equipment. Common examples of these types of incidents include getting caught or pulled into machinery, building or other structure cave-ins, and being compressed or crushed between moving objects.
How to Prevent and Avoid These Fatal Four Hazards
Workers and employers should take the preventive measures listed below to prevent fatal injuries from occurring as a result of the top four construction hazards. However, keep in mind that workers' compensation is a no-fault system. This means you are eligible to receive benefits without needing to prove fault. So whether you as the injured worker or your employer failed to take precautionary measures, you are still eligible to apply for benefits.
Preventing Falls:
Workers can protect themselves from falls by:
Using fall protection equipment such as guardrails, safety nets, and anchor and body harness systems.
Staying alert and focused when using ladders or scaffolding.
Paying attention to training on the use of ladders and scaffolding.
Employers can protect their workers from falls by:
Providing proper fall protection gear, equipment, and guard rails or safety nets.
Ensuring workers are using ladders and scaffolding safely.
Ensuring the condition and construction of scaffolding and ladders.
Providing adequate training.
Preventing Electrocution:
Workers can protect themselves from electrocution by:
Keeping a safe distance from power lines.
Inspecting tools and cords for damage before use.
Using ground-fault circuit interrupters.
Following lockout or tagout procedures.
Employers can protect their workers from electrocution by:
Ensuring safe distances from power lines are maintained.
Supplying gear to prevent electrocution and shock.
Ensuring work zones are grounded.
Ensuring all electrical tools and equipment are in good condition.
Providing adequate training.
Preventing Struck-By Incidents:
Workers can protect themselves from struck-by incidents by:
Paying close attention when using heavy equipment, machinery, and tools.
Being mindful of your surroundings and other workers.
Following general workplace safety practices.
Wearing proper protective gear.
Employers can protect their workers from struck-by incidents by:
Managing worksites and ensuring workers are using equipment, tools, and machinery safely.
Ensuring workers are following safety protocols.
Providing adequate training and personal protective equipment.
Preventing Caught-In or -Between Incidents:
Workers can protect themselves from by:
Only using machinery and equipment that has proper guards.
Remaining alert and aware of dangerous objects or machinery in their surroundings.
Ensuring objects, machinery, and equipment are properly supported and secured.
Avoiding situations where they could get pinned or trapped.
Wearing protective gear.
Employers can protect their workers from caught-in or -between incidents by:
Supervising worksites and ensuring objects, equipment, and machinery are supported, secured, and have proper safety guards.
Supervising workers to ensure they are being safe and not putting themselves at risk of being pinned, crushed, or trapped.
Providing personal protective equipment.
Ensuring structures are properly supported and will not collapse.
Providing adequate training.
Connect with an Experienced Mississippi or Louisiana Workers' Compensation Attorney
Construction sites can be dangerous and full of hazards. Both workers and employers should take necessary precautions and measures to prevent fatal accidents. However, if an injury does occur, it's important to get the help you need to ensure you receive the benefits you deserve.
If you have questions or concerns about your case, contact the experienced Mississippi and Louisiana workers' compensation attorneys at Lunsford, Baskin, and Priebe, PLLC. After-hours visits are available.