Work-Related Spine Injuries: A Closer Look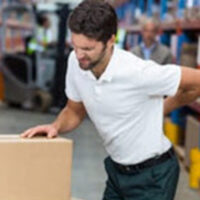 A spine injury is arguably the most devastating workplace injury. The lifelong medical bills and related medical expenses, such as physical changes to a dwelling to accommodate a wheelchair, often approach $5 million. Additionally, many of these victims can no longer work, even if the paralysis is only partial.
The bottom line is that these families need substantial financial resources to deal with these injuries and make up for the income that they lose. A Jackson workers' compensation attorney can help victims obtain these resources. The workers' compensation insurance company has a legal obligation to pay medical bills and replace lost wages. An attorney helps ensure that the company lives up to its responsibilities.
What Causes Work-Related Spine Injuries?
Falls from a height and slip-and-fall incidents are the leading causes of work-related spine injuries. Typically, the victim's back is completely unprotected. Even a moderately hard landing can knock the spine out of alignment or shatter parts of it. Frequently, a combination of surgery and physical therapy can contain the damage, but not reverse it.
Moreover, many Mississippi jobsites, especially energy production sites, have large machines. If they fall, cranes and other machines can literally crush spines.
Speaking of energy production facilities, if the spine injury or other injury occurs on an offshore drilling rig or other location, state workers' compensation usually does not apply. However, federal law provides similar no-fault remedies.
Determining Disability
Spine injuries are normally disabling. Significantly, the d-word is not just a medical term. This word also has educational, vocational, and other implications.
For example, if a college professor injures her spine, the injury might not be disabling, especially if she suffers partial paralysis. But for an oil field worker, any spine injury could be disabling. The availability and success of occupational therapy, if available, sometimes comes into play in these situations.
To shore up disability claims, many attorneys partner with vocational experts. These individuals testify about the victim's future employment prospects, if any, given the victim's physical condition.
Your Claim for Damages
Initially, Claims Examiners usually review the medical records and approve or deny claims. These examiners, who are essentially insurance company pawns, almost always deny spine injury claims, at least in part. As discussed above, these claims are quite subjective, even if the victim is obviously seriously injured.
At the next level, which is a trial-like administrative hearing, an attorney can introduce evidence, challenge evidence, and make legal arguments. As a result, victims have a much better chance of obtaining the benefits they deserve.
Frequently, spine injury victims can sue outside the workers' compensation system and obtain additional damages. For example, many Mississippi companies do not have workers' compensation insurance, although they are legally required to carry it. In these situations, victims may bring claims in civil court and obtain compensation for pain and suffering and other noneconomic losses, in addition to economic losses.
Additionally, in these situations, employers cannot use certain "silver bullet" defenses, such as comparative fault. 
Rely on an Thorough Attorney
Spine injuries cause lifelong consequences. For a free consultation with an experienced workers' compensation lawyer in Jackson, contact Lunsford, Baskin & Priebe, PLLC. Home, virtual, and hospital visits are available.
Resource:
christopherreeve.org/living-with-paralysis/costs-and-insurance/costs-of-living-with-spinal-cord-injury
https://www.lunsfordbaskin.com/a-closer-look-at-job-related-hearing-loss/