A Closer Look at Job-Related Hearing Loss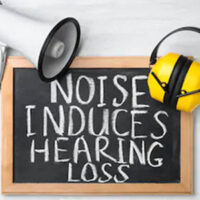 Hearing loss is one of the most common occupational diseases. Roughly thirty million Americans have hearing loss in both ears. Prolonged exposure to noises as low as 85 decibels, which is basically a school cafeteria, could cause hearing loss.
If treated properly and promptly, hearing loss is usually not too severe. But most of these victims do not seek immediate treatment. Instead, they often think hearing loss is a normal part of the aging process or that their problem is not work-related. As a result, the condition is impossible to treat, except through risky and invasive surgery.
Even if the victim has a pre-existing condition, a Jackson workers' compensation attorney can obtain no-fault benefits which cover economic losses. In some cases, victims might be able to file civil court claims and obtain additional compensation.
Getting Help for Hearing Loss
Low-level noises, like the aforementioned school cafeteria, often cause the most serious occupational-related hearing loss cases. If the volume is softer, like a quiet office, there is usually no danger. If the volume is higher, like a textile mill, earplugs are usually available. But school lunchroom monitors probably think nothing about hearing loss. The same is true for crossing guards at busy intersections or monitors on busses full of elementary school students.
Today's hearing aids are more effective and smaller than ever before. But even the most advanced hearing aid only amplifies sound. If the ear muscles are even slightly damaged, more aggressive means are necessary.
This surgery usually involves drilling a hole in the skull and implanting a device near the eardrum. Not everyone is a candidate for this surgery, and the procedure is not always successful. But in advanced cases, that's the only available treatment.
As mentioned, pre-existing conditions sometimes come into play in hearing loss claims. Most people are exposed to excessive noise all day every day, and not just at work.
Generally, full benefits are available in these situations. Employers cannot escape liability for dangerous workplace conditions simply because the victim is particularly vulnerable to a certain illness or injury. An attorney must only prove that the job-related noise exacerbated the pre-existing condition, and not the other way around.
Benefits Available
Workers' compensation benefits normally include medical bill payment and wage replacement. Hearing loss victims usually need both kinds of benefits, and they usually need them badly.
Hearing aids are not only much more advanced. They are also much more expensive. Typically, health insurance plans do not cover injury-related losses. So, without workers' compensation, these victims might have to pay for hearing aids out of pocket.
This benefit also applies to ear reconstructive surgery, if it is needed. Typically, either the insurance company pays these bills directly or the doctor agrees to defer billing until the case is resolved. Either way, many victims never see medical bills.
In serious situations, victims are often not able to return to their previous jobs. Instead, they must accept lower-paying work in a quieter environment, like an office. In these cases, workers' compensation usually pays two-thirds of the difference between the old and new salaries. 
Reach Out to a Dedicated Attorney
Louder-than-average noises often cause permanent hearing loss. For a free consultation with an experienced Jackson workers' compensation lawyer, contact Lunsford, Baskin & Priebe, PLLC. We routinely handle matters in Louisiana and Mississippi.
Resource:
nidcd.nih.gov/health/statistics/quick-statistics-hearing
https://www.lunsfordbaskin.com/top-ten-shoulder-pain-causes/