The Wage Replacement Benefit in a Mississippi Workers' Compensation Claim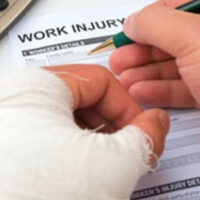 Employer workers' compensation costs have fallen sharply in recent decades. Worker benefits have fallen sharply as well, to their lowest level since 1980. In other words, while wages have increased, mostly due to inflation, benefits have decreased, again mostly due to inflation.
A workplace injury is financially crippling for most families. Typically, the victim's job is the family's primary or only source of income. Most Mississippi households have less than $1,000 in savings. They do not have the financial resources to stay afloat on their own during such a crisis.
Whether the disability is temporary or permanent, partial or total, fair compensation is available. And, a Jackson workers' compensation attorney fights to ensure that victims get a fair sized piece of a shrinking financial pie. Your family deserves no less.
Types of Compensation
There are many different kinds of workplace injuries. Some, like falls, occur suddenly and without warning. Others, like breathing problems, occur slowly over time. Workers' compensation applies to both trauma injuries and occupational diseases. The types of benefit arrangements are:
Temporary Total Disability: Most victims are unable to work as they recover from their injuries. So, workers' compensation typically pays two-thirds of the victim's Average Weekly Wage for the duration of the TTD.
Temporary Partial Disability: Once physical therapy is partially complete, many victims can return to work. But they must accept reduced hours or a lower-paying light duty assignment. In these situations, workers' compensation pays two-thirds of the difference between the old and new AWW. More on AWW calculation below.
Permanent Total Disability: "Disability" is not synonymous with "bedridden." The d-word is roughly synonymous with "unable to work." So, disability is a vocational, educational, and economic issue, in addition to a medical question. If the victim is completely disabled, a substantial payout might be available, to make up for future lost wages.
Permanent Partial Disability: Frequently, after victims go through physical therapy, some injury remains. That's especially true for knee and other such injuries. Depending on the nature and extent of the PPD, a lump sum payout might be available.
Workplace injuries frequently involve pre-existing conditions. Some people have prior injuries or genetic predispositions that make the susceptible to certain injuries. Generally, full compensation is available in these situations. An attorney must simply prove that the workplace injury aggravated the pre-existing condition, and not the other way around.
Determining the Average Weekly Wage
Typically, it takes more than a calendar and a calculator to determine a victim's AWW. People change jobs frequently. There's a big difference in pay between a shift manager and a full manager.
Additionally, the AWW must account for both cash and noncash compensation. Many victims drive company cars, are eligible for tuition reimbursement, or receive occasional bonuses. The workers' compensation AWW must account for all this income.
Future increases sometimes come into play as well. Many workers are injured when they start jobs and they receive probationary wages. If their wages would have increased after a few weeks or months, the AWW calculation must reflect that increase. It's not the worker's fault s/he was injured and was unable to work. 
Rely on an Savvy Attorney
Job injury victims are eligible for wage replacement. For a free consultation with an experienced Jackson workers' compensation attorney, contact Lunsford, Baskin & Priebe, PLLC. We do not charge upfront legal fees in these cases.
Resource:
insurancejournal.com/news/national/2017/10/04/466509.htm
https://www.lunsfordbaskin.com/work-related-spine-injuries-a-closer-look/