Mississippi Landscaping and Gardening Injuries and Illnesses: A Closer Look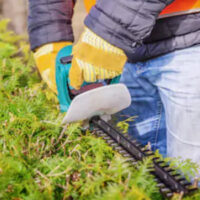 Most people do not consider gardening, landscaping, and other such work to be a high-risk occupation. In fact, many people do things like mow their own lawns and hardly give any thought to safety. Yet the illness and injury rates these workers endure are similar to the illness and injury rates in mining, agricultural, and other universally recognized high-risk occupations.
Making matters worse, many gardening and landscaping workers have Limited English Proficiency. Therefore, they might not understand how to use safety features or understand why it is important to use them.
If you or a loved one was hurt at work in some way, the insurance company has a posse of lawyers looking out for its interests. Therefore, you need an equally tough Jackson workers' compensation lawyer on your side. That's the best way, and usually the only way, to obtain fair compensation for your serious injuries.
Types of Injuries and Illnesses
Falls, motor vehicle crashes, and struck by falling objects are the most common types of landscaping trauma injuries. These incidents happen suddenly and without warning.
Even on grass, a slip-and-fall often causes head injuries and broken bones. These wounds are especially severe if the victim has a pre-existing condition. Typically, full compensation is available in these situations.
As they drive to and from worksites, most landscapers ride in small trucks which tow large trailers. Generally, the operators behind the wheel have little experience driving in such circumstances. As a result, the vehicle is difficult to control. Many of these drivers oversteer in curves and lose control of their vehicles. Others momentarily drift over the centerline.
Struck by a falling object is the most common gardener trauma injury. Heavy tree branches, especially when they fall from two or three stories in the air, often cause catastrophic injuries.
Breathing problems and hearing loss are the most common kinds of landscaping occupational diseases.
Benzyne fumes usually cause breathing problems. When organic matter mixes with a hot engine, the result is a sweet-smelling gas. When people comment on the smell of freshly-cut grass, they are smelling benzene. These fumes do not just cause lung problems. They have also been linked to cancer.
As for hearing loss, sounds as low as 85 decibels, which is roughly the sound a lawnmower makes, can cause hearing loss. Most people do not rush to the doctor the moment their hearing degrades. So, by the time these victims are diagnosed, their hearing loss is usually at an advanced stage.
Compensation Available
Job injury victims are entitled to no-fault insurance benefits which cover economic losses, primarily lost wages and medical bills.
Most job injury victims receive two-thirds of their average weekly wage for the duration of a temporary disability. If the injury is permanently disabling, as are most occupational diseases, most victims are eligible for a lump sum payout. Medical bills payment usually includes all reasonably necessary medical expenses, from the first moment of emergency care to the last day of physical therapy.
Work with a Diligent Attorney
Gardeners and landscapers routinely risk serious injury. For a free consultation with an experienced workers' compensation lawyer in Jackson, contact Lunsford, Baskin & Priebe, PLLC. Home, virtual, and hospital visits are available.
Resource:
pubmed.ncbi.nlm.nih.gov/28128785/