Can you Sue your Employer for a Laceration Injury?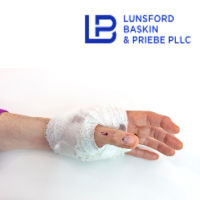 Lacerations can pose a serious threat to employees in various work environments. If you work around knives, blades, or machinery, you could experience a serious laceration injury that requires costly medical expenses and time away from work.
Laceration injuries can lead to heavy bleeding and nerve damage if the cut is deep enough. Additionally, deep-cut injuries can leave your tissue or bone exposed, leading to an increased risk of infection.
If you experience a laceration injury at work, you may wonder how you'll receive compensation for your injury. You have every right to receive workers' compensation for medical bills and lost wages when you experience an injury at work, including lacerations. There are also situations in which you can sue your employer for your injury.
What Should I Do After a Laceration Injury?
If you experience a laceration injury while at work, you'll likely need to seek immediate medical attention. If the cut is bleeding heavily or if there is debris in your wound, you should go to the emergency room. In addition to standard treatment of the wound and removing debris, you may also need a tetanus or rabies shot depending on the cause of your laceration injury.
In addition to the wounds you sustained, you may also require medical treatment for damage to your tissues, muscles, or bones depending on the depth of your cuts. Treating additional injuries caused by lacerations may require surgery and physical therapy.
Eligibility for Workers' Compensation
With all of the medical expenses and time away from work you may accumulate after experiencing a laceration injury, it's critical that you file a workers' compensation claim. Workers' compensation is designed to cover your medical expenses for an injury or illness sustained on the job and for any wages lost while you recover away from work.
Your workplace should have available information regarding filing workers' compensation claims. There may be a workers' compensation poster in your workplace, or it may be located in your employee handbook. The instructions for applying will tell you who to inform of your injury.
You should initiate the process of filing a workers' compensation claim as soon as possible after receiving your initial medical treatment. Delaying your claim may hurt your chances to receive compensation because your employer's insurance company may view your delay as a sign that your injury wasn't severe.
Although receiving workers' compensation for your laceration injury should be a seamless process, employers and insurance companies often look for ways to underpay or deny workers' compensation claims. In the event that your claim is underpaid or denied, you need expert workers' compensation attorneys at your side to fight for your claim.
When Can You Sue Your Employer for an Injury?
Although injured employees typically receive money for medical expenses and lost wages through workers' compensation, there are situations in which employees can sue their employers. If you suffer from an injury on the job and your employer doesn't have workers' compensation insurance, you may be able to bring legal action against them in civil court to recover damages.
There are also situations regarding your injury that may enable you to sue your employer. If your employer's intentional conduct resulted in your laceration, you can sue them. An employer's intentional conduct means that they committed an action intended to harm another person or they knew that an injury would likely occur.
If you sue your employer, you can recover damages that aren't included in workers' compensation. Workers' compensation only covers medical bills and lost wages, and in personal injury lawsuits, you can recover damages for medical expenses, pain and suffering, emotional distress, loss of consortium, and more.
Contact a Workers' Compensation and Personal Injury Lawyer
If you're injured at work, you need to contact expert personal injury and workers' compensation attorneys. You need legal professionals at your side in the event that your claim is underpaid, denied, or if you have an additional personal injury claim.
For workers' compensation and personal injury lawyers you can count on in Mississippi and Louisiana, contact the attorneys at Lunsford, Baskin, and Priebe, PLLC. We have years of experience helping victims of workplace injuries receive the full compensation they deserve for medical bills and lost wages. For legal experts in Louisiana, call 504-788-2994, or for support in Mississippi, call 601-983-2667. You can also click here to schedule a free case evaluation.