Workplace Injuries Due to Workers Fatigue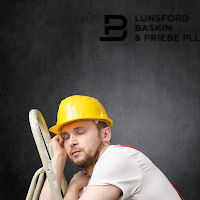 What is Workers Fatigue?
We've all had days when fatigue affects our work. We might nod off while staring at the computer or take a coffee break every few hours. While fatigue in the workplace is normal, in certain workplace settings, it can also be dangerous.
In positions that require physical labor, long shifts, driving, or other involved tasks, it is imperative that employers create conditions that encourage employee wellness. If workers in these industries are overworked to the point of fatigue, workplace injuries could occur.
How are Workers Fatigue and Workplace Injuries Connected?
According to the National Health Survey, the rate of workplace injuries is higher among employees who sleep for less than 7 hours a night. The rate of injury is also higher among workers who work 60+ hours per week. If workers are encouraged to work long hours, or given an out-of-the-ordinary workload, they could be tempted to forgo the rest they need.
And when working conditions lead employees to do without getting the rest and recharging time they need, it can have consequences for not only the employee but other workers and the business itself.
Fatigue leads to poor performance. Potential side effects of fatigue on the job include recurrent errors, slower reaction times, and decreased ability to process information. When employees are not alert and performing at their best, or even at baseline, they are more likely to make mistakes. In certain industries, these mistakes can lead to serious harm or injury.
These industries include healthcare, emergency responders, manufacturing, transportation, construction, and general physical labor, among others. When an individual's job requires operating machinery, driving a vehicle, administering healthcare, or a host of other hands-on tasks, the risk of workplace fatigue leading to injury increases.
Workers in these industries should be especially cognizant of the workplace conditions their employers are creating, and whether or not they are conducive to a healthy, balanced life that encourages worker rest.
Workplace Conditions that Can Lead to Fatigue
There are a variety of workplace conditions that can contribute to workers fatigue, including:
Long Hours
Employees who work extremely long hours are more likely to be affected by fatigue. Some industries are built on expectations of being able to work long hours — for example, 16-hour shifts are fairly common in the healthcare industry. When long shifts are involved, employers should be mindful of how often they are scheduling an individual. If an employee is expected to work several long shifts in a row, it could contribute to causing fatigue in that worker.
Abnormal Hours
Employees who work second or third shifts are at a disadvantage when it comes to workplace fatigue. These jobs require unique sleeping schedules, and if the employees are not properly trained on how to move between shifts, or take care of themselves outside of work, fatigue could become a common problem.
Few or No Workday Breaks
Some states require workplace breaks by law under certain conditions, but even when they do, many employers may not practice these standards. If workers are not allowed to take breaks and check in with themselves, it may be difficult for them to a) fight off fatigue and b) recognize when they're feeling fatigued so that they can speak up and take a break. Workplaces that consistently do not offer employees breaks could be considered to be creating an unsafe work environment.
Compensation for Workplace Injuries
If you were injured on the job, or have suffered due to unfair working conditions, a personal injury lawyer can help you get the compensation you deserve. Don't go through workplace injury alone. Get the professional advice and help you need to progress through the situation.
Dedicated, Professional Legal Help with Mississippi Workers' Compensation & Personal Injury Matters.
When you get injured at work, you deserve to be compensated for your medical expenses and lost income. When you hire the Lunsford Baskin & Priebe law firm to represent you, we will protect your rights and fight for the maximum compensation possible. We will conduct an independent investigation and gather all evidence.
We will make sure all responsible parties are on notice and speak with witnesses. Most importantly, we will handle all negotiations with insurance companies and involved parties, one of the most stressful aspects of filing a claim.
Our professional, dedicated team has years of experience practicing exclusively in the area of workplace injury. For help with a Mississippi workers' compensation claim, call the Jackson workers' compensation lawyers at Lunsford, Baskin & Priebe, PLLC in Jackson for a free consultation at 601-488-3975.