What To Do If You Are Hit By a Driver With No Personal Injury Insurance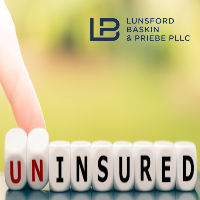 A disturbing fact about our state is the fact that Mississippi is a dangerous place to drive. It is ranked as the state with the highest death rates for motor vehicle accidents. In fact, at 2.9 crash-related deaths per every 100,000 people, Mississippi has more than double the national traffic fatality rate of 1.2 per 100,000.
Even if you are involved in an accident with no fatalities, the upsetting news continues: Mississippi also tops the list of states as having the highest number of uninsured drivers. According to 2019 data from the III (Insurance Information Institute), 29.2% of the drivers out on the roads in Mississippi every day are uninsured.
These are frightening statistics, suggesting that you risk both your life and your wallet every time you hit the road.
Knowing that almost 3 out of every 10 drivers you encounter have no insurance may make you feel that you will be completely out of luck if one of them crashes into you, but this isn't necessarily the case. It is very likely that you have Uninsured Motorist Insurance (UM) and Underinsured Motorist Insurance (UIM) to help protect you against such a scenario.
Uninsured/Underinsured Policies
If your accident was caused by a driver without liability car insurance or without enough liability insurance to cover your medical bills, you can make a claim with your own insurance company through your UM/UIM policy.
How is it possible to know if you carry uninsured coverage? Obviously, check your policy, but it is likely that you do. Motor vehicle insurance agencies in Mississippi are required to offer it to everyone, and unless you specifically opt-out in writing, you have it.
The minimum amount is 25-50-25, but it can go up to your liability policy limit.
25-50-25 means that you have:
A maximum payout of $25,000 for bodily injury per person
A maximum payout of $50,000 for bodily injury per accident
A maximum payout of $25,000 for property damage
Possible medical expenses
Now consider the fact that even after insurance, the average ambulance ride costs hundreds of dollars, and the average air ambulance costs $21,700.  Add a host of other medical necessities to that, and you can see the problem:
Medical bills
Ambulance bills
Future medical bills
Physical therapy
Rehabilitation
Prescription medication
Encouraging news:
It is possible to "stack" your UI/UIM insurance in Mississippi. This means that if you have insured more than one driver and vehicle in your house and one is in an accident with an uninsured driver, you can add the policies together (up to a maximum of $100,000 Per person/$200,000 per accident).
Personal injury coverage
Discouraging news:
Mississippi also has something called the "set off," which is not necessarily good news. Basically, if an underinsured motorist causes an accident that injures you, his $25,000 for bodily injury would be set off against yours.
Suppose that you have $50,000 per person worth of UM insurance and the other driver has $25,000 bodily injury insurance. Your medical bills are $50,000. You may think that the two amounts will be added together to make $75,000 — but they won't. The at-fault driver's coverage will offset (set off) your UM insurance, so your insurance company would award you only $25,000.
Importance of hiring an attorney:
Unfortunately, insurance companies are not known for being easy to deal with or for being eager to part with money, so it is advisable to consult an attorney who is experienced and knowledgeable about uninsured motorists and personal injury cases. The attorneys at Lunsford, Baskin, and Priebe PLLC will protect your rights and fight for the maximum compensation possible. We will conduct an independent investigation and gather all evidence. We will make sure all responsible parties are on notice and speak with witnesses.
After we have your medical records and billing, we will verify the extent of your injuries and what your future prognosis is. In serious injury cases, we may need to retain medical experts and vocational experts to explain what your future care needs will be.
Negotiating with insurance companies is one of the most stressful aspects of a claim. We will handle all negotiations. If discussions break down or there's an impasse on liability, we will prepare to file a lawsuit on your behalf. If it becomes necessary to take your case to trial, we have the resources and experience. We aren't afraid to back down from an aggressive court battle.
Final words of advice:
Buy as much UM/UIM coverage as you can comfortably afford.
If it comes to the worst and an uninsured motorist causes injuries in a crash, don't hesitate before contacting an experienced attorney who will fight for appropriate compensation for you.
To learn more about how we can help you after being injured in a car accident, contact Lunsford, Baskin & Priebe, PLLC today to schedule a free consultation. 601-488-3975