Repetitive Motion Workers' Compensation Claim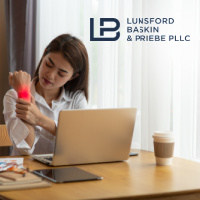 Most individuals that seek workers' compensation do so for very obvious single-incident reasons. Injuries that are sustained from something like a fall or being hurt by a piece of equipment or machinery are easy to file a claim for. 
However, what many don't know is that some injuries are not immediately apparent and can develop over a period of time from routine motions and actions performed while working. These repetitive motions can put stress on the body, but as the reason for the injury may not be apparent, most don't even consider filing for workers' compensation in these cases. 
If you suspect you may have this type of work-related repetitive stress injury, it's important to understand your rights and what benefits are available to you. While it is possible to file a claim for these types of injuries, they are not as easy to get compensated for. When this happens, seeking the help of an experienced Mississippi workers' compensation lawyer can ensure you receive the full benefits that you deserve. 
What are Repetitive Motion Injuries?
Repetitive motion injuries, also known as Repetitive Stress Injuries (RSI), are a type of injury or chronic pain that develops over time due to the same motions being performed over and over again. These repetitive movements, such as sitting at a desk for long periods, or bending and lifting heavy objects, can put stress on the body. Other names you may have heard for these types of injuries include cumulative trauma, overuse injuries, and repetitive strain injuries.  
What Causes an RSI to Develop?
Most jobs involve performing some sort of repetitive motions regularly, but some work requires more frequent repetitive movements than others. Activities, motions, and jobs that most often cause RSIs to develop include:
Sitting at a desk for long periods 

Having to stand for extended periods, such as cashiers, assembly line workers, or nurses, and other medical professionals.

Frequent computer use and typing

Bending and lifting objects over and over again

Moving heavy objects

Frequent use of tools or operating equipment and machinery

Playing an instrument

Janitorial work, such as scrubbing surfaces and mopping floors
Typical Symptoms of RSIs 
When we overload our bodies and put repeated stress on the same muscle groups over and over again, there are many symptoms and sensations that we can start to experience. If you begin to notice any of the following symptoms, you could be suffering from a repetitive stress injury:
Aching and throbbing acute pains

Tingling and numbing

Cramping

Tenderness

Muscle weakness or fatigue

Decreased range of motion
Top 7 Work-Related Overuse Injuries
Though there are a number of injuries that can develop from overusing certain parts of your body, the most common RSIs seen in workers are:
Carpal Tunnel Syndrome

Bursitis and Tendinitis 

Tennis Elbow

Arthritis

Rotator Cuff Syndrome

Hearing Loss (from exposure to loud noises)
Do Repetitive Motion Injuries Qualify for Workers' Compensation?
In the state of Mississippi, it is possible to receive benefits under workers' compensation for repetitive stress injuries. If you suspect you may be experiencing an RSI, you should first document the injury or what you think may have caused it and report it to your employer. From there you will need to follow Mississippi state guidelines for seeking workers' compensation, which will typically involve seeing a doctor to confirm and treat your injury.
It's important in these cases to speak up as soon as you suspect an injury. With RSIs, it is common for workers to try to tough it out because they don't think it's something they can get compensation for. However, if you wait too long and then decide to report the injury once the symptoms worsen, it may be more difficult to receive benefits. 
Connect With an Experienced Mississippi Workers' Compensation Attorney
The process of filing a claim for workers' compensation can be challenging to navigate, especially when it's for a repetitive stress injury. Proving that these types of injuries are work-related is more difficult than an obvious, single-incident injury. For a free consultation with an experienced workers' compensation lawyer in Mississippi, contact Lunsford Baskin, and Priebe, PLLC. After-hours visits are available.
Disclaimer
The information and materials on this Web site are provided for general informational purposes only, and are not intended to be legal advice. We attempt to provide quality information, but the law changes frequently, and varies from jurisdiction to jurisdiction. The information and materials provided are general in nature, and may not apply to a specific factual or legal circumstance. An attorney and client relationship should not be implied. Nothing on this Web site is intended to substitute for the advice of an attorney; therefore, if you require legal advice, please consult with a competent attorney licensed to practice in your jurisdiction.