What Is Considered Distracted Driving?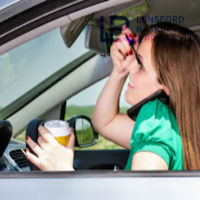 Cell phone use and the use of other electronic devices, such as in-car technology, increase every year. As society continually makes advances, we will only see an increase in the appearance of digital devices, whether in the home, at work, or even in our cars. Unfortunately, while cell phones and digital car displays with navigation systems have made our lives easier in many ways, they have also led to an increase in car accidents.
In 2019, the National Highway Traffic Safety Administration reported over 3,000 fatalities due to distracted driving. Of course, distracted driving includes more than just the use of an electronic device. It can account for anything that diverts your attention from the road. However, as our dependency on cell phones has increased, most distracted driving car accidents are found to be a result of texting or sending an email. Of all drivers, young adults and teens are more likely to be distracted by their phones than others.
How Is Distracted Driving Classified?
Again, while cell phone usage is the most common distraction, there are many things and actions that are considered distracted driving. When it comes to officially classifying distracted driving, the CDC breaks it down into three main types:
Visual distractions: Anything that results in you taking your eyes off the road
Cognitive distractions: Thoughts that distract you from paying attention to your driving and the road
Manual distractions: An action or anything else that results in you removing your hands from the wheel
*Using your cell phone is an example of ALL three distractions, which is why it is the most common reason for fatal distracted driving accidents.
Examples of Distracted Driving
While there is any number of things that can be classified as distractions, some of the most common reasons for distracted driving accidents include:
Making a phone call
Sending or reading an email
Sending or reading a text
Scrolling through or posting on social media
Using your phone or car's navigation system
Eating and drinking
Talking with or looking at passengers, especially those in the backseat, such as kids or pets
Personal grooming — i.e., looking at yourself in the mirror, applying makeup, fixing your hair, etc.
Messing with the radio
Daydreaming or zoning out while thinking about something else
What Are the Consequences of Distracted Driving in Mississippi?
Nearly 8 people die every day due to distracted driving, with about 1 in 5 of those individuals being killed while they were simply out walking or riding a bike. For this reason, many states, including Mississippi, have enacted laws to crack down on distracted driving, specifically where the use of cell phones is concerned.
While there are currently no restrictions on making or receiving calls while driving in Mississippi, they have completely prohibited the use of cell phones and other devices while driving for:
Writing, sending, or reading text messages or emails
Accessing social media to read or make a post
The penalty for distracted driving while texting or emailing in Mississippi is a ticket that carries with it a $100 fine. This is just a basic fine, however. If you damage property, injure or even kill someone due to distracted driving, you could face further fines and charges such as a reckless driving conviction or vehicular manslaughter. These more severe charges and convictions can lead to hefty fines, license revocation, and even years of jail time.
What if I Am Injured by a Distracted Driver?
Dealing with a personal injury after a car accident can have both mental and physical tolls on the body. Not only can some accidents and injuries lead to symptoms of PTSD on top of severe physical injuries and scarring, but they can also result in expensive medical bills for treatments and loss of income due to the inability to work.
If you are injured by a distracted driver, it is your right to file a claim and seek compensation. Not only will this provide the money you need to cover any financial losses from medical bills and being out of work, but it will ensure that the distracted driver is held accountable.
Texting while driving comes with serious consequences. It's important to report these incidents and hold drivers accountable to not only ensure that justice is served but to discourage future drivers from using their cell phones while driving.
Connect with an Experienced Mississippi Personal Injury Attorney
If you or a loved one has been injured due to the negligence of a distracted driver, we can help bring you peace of mind and ensure you receive the compensation you deserve. For a free consultation with an experienced personal injury lawyer in Mississippi, contact Lunsford, Baskin, and Priebe, PLLC. After-hours visits are available.