The Role of HIPAA In Your Louisiana Workers' Compensation Claim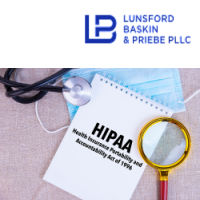 Though HIPAA might be a term easily recognized, few know exactly what it is and how it works. From a basic understanding, most people know that HIPAA has to do with their private healthcare information and how it is used by medical providers and healthcare facilities. Beyond that, however, most people are in the dark. 
What many don't know is that HIPAA does play a role in workers' compensation situations. When you file a workers' comp claim, you are doing so because you were injured, and the information about your injuries and your medical care needs to be shared with certain parties involved in the case to ensure you get the benefits you deserve. 
Understanding how it all works in regards to the worker's privacy can be confusing for some. If you are ever in doubt about your rights and how the law works when filing a workers' compensation claim, you should work with a local Louisiana workers' compensation attorney. An attorney can guide you through the process and help you file your claim, ensuring that your rights are protected and you receive the full amount of benefits you deserve. 
What is HIPAA?
HIPAA or the Health Insurance Portability Accountability Act was passed into law in the United States in 1996. The initial intent or goal was to ensure the private medical information and records of patients were only shared with certain parties on a "need to know" basis, thus protecting patient privacy. 
Of course, medical records and patient privacy were still a concern for decades before the passing of HIPAA. But when computers were invented and information could easily be stored and shared digitally, there were increased concerns about safety. For this reason, HIPAA was passed as a way to specifically find a way for medical information to be transferred digitally from one health provider to the next without compromising a patient's safety and data. 
There have been updates to the HIPAA Security Rules since then to keep up with technology and the various ways we now store and share data digitally, but the overall intent has always been to protect a patient's privacy. 
How is HIPAA Connected to Workers' Compensation? 
When you file a workers' compensation claim with the intent to recover benefits for a work-related injury, information about your injury must be shared with certain parties involved, such as your employer, workers' compensation insurers, and any other third-party workers' compensation administrators and organizations. 
Your medical records concerning your work-related injury need to be shared with these parties so they can evaluate your situation and determine an appropriate amount for medical benefits. If this information is not shared, then you will likely have your claim denied or you will not receive the full amount of benefits you need to cover your medical expenses. 
It is also essential for your medical records to be easily shared in a timely manner with certain parties because there are deadlines that must be met when you file a workers' compensation claim. So where HIPAA and your workers' comp claim is concerned, you want your private medical information to be easily shareable with these parties. 
Workers' Compensation Exceptions Regarding HIPAA
Normally, the HIPAA Privacy Rule would restrict your doctor or medical provider from sharing your medical information with the parties involved in a workers' compensation claim. But this is why an exception has been made under these circumstances. 
This means the HIPAA Privacy Rule does not apply to parties such as workers' compensation insurers, workers' comp admin agencies, or employers because it recognizes the legitimate legal need of insurers and other parties involved to have access to the injured worker's medical records as authorized by State or other law. 
However, some restrictions still apply. For example, only the parties that are considered "covered entities" according to the Privacy Rule may access your medical information. And even when they do access it, they must follow strict guidelines for storing and transmitting that information. 
Furthermore, these entities are not allowed to have access to your entire medical history—only the records and information that pertain directly to your work-related injury. This is because some parties, such as workers' comp insurers, could try to use your past medical history against you to deny your claim or reduce your benefits.
However, if you permit these parties to access past medical history, then they can freely do so. So it's important to be mindful of what you agree to when speaking to your employer or any other workers' compensation party that is involved in your case. Generally, it's always best to work with an attorney in these situations because they can offer you guidance on what to say and what not to say to ensure your rights are protected and to keep insurers from taking advantage of you.  
An Experienced Louisiana Workers' Compensation Attorney Can Help
If you are injured as a worker, though HIPAA does not apply to certain workers' compensation entities, you still have rights to protect yourself and your private information. Our dedicated team of workers' compensation attorneys has years of experience handling these kinds of cases and can help you navigate the claims process to ensure you are protected and get the full amount of benefits you deserve.  For help with a Louisiana workers' compensation claim, contact the workers' compensation lawyers at Lunsford, Baskin & Priebe, PLLC at 504-788-2994 for a free consultation.