Louisiana Excavation and Trench Accident Injuries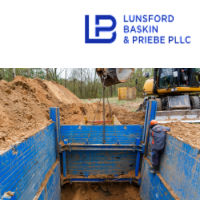 Excavation and trench accidents are highly preventable, but many of these accidents have injured and even killed employees. According to the Occupational Safety and Health Administration (OSHA), hundreds of injuries and dozens of fatalities occur every year due to trench collapses and excavation accidents, making them one of the deadliest accidents that can occur on construction sites. 
If you suffer from an excavation or trench injury while working, you have every right to recover workers' compensation in Louisiana. In this blog, we discuss common injuries that occur from trench and excavation accidents, how construction crews can prevent these accidents, and the workers' compensation benefits you can receive if you're injured on the job. 
Injuries Caused By Trench and Excavation Accidents in Louisiana
Employees can suffer from serious or even fatal injuries if their employers don't take proper safety precautions on their trench or excavation sites. Common injuries that occur due to excavation and trench accidents include:
Injuries associated with trench and excavation accidents often occur due to preventable safety mistakes, such as falls, cave-ins, faulty or dangerous equipment, and falling loads. 
Additionally, fatal injuries can occur due to trench collapses and accidents at excavation sites. These include: 
Fatal crush injuries:

A cave-in or trench collapse can fatally crush an employee.

Asphyxiation:

After a trench collapse, an employee can suffer asphyxiation due to a lack of oxygen access.

Poisoning:

Excavation accidents and trench collapses can lead to employees inhaling toxic fumes. 

Burns:

Excavation accidents can set off a chain of events that leads to explosives unintentionally combusting.

Drowning:

If the excavation site involves water, employees could drown if there's a trench collapse or accident. 
Preventing Louisiana Trench and Excavation Accidents
Employers and managers need to take certain actions to ensure the safety of their employees. Take the following precautions at trench and excavation sites:
Prepare the site:

Construction companies

need to survey a site both before and during an excavation project. They need to enlist the expertise of someone who can perform soil analysis to prevent collapses.

Place the equipment properly:

One reason why excavation and trench accidents occur is that construction crews and companies place equipment too close to the trench itself. Employers and managers need to ensure that they place work equipment in the proper place to avoid injuries.  

Prevent cave-ins:

When preparing an excavation site, crews need to implement precautions to prevent cave-ins by building supports on trench walls, using trench boxes against trench walls, and sloping trench walls to reduce the likelihood of a collapse. 

Implement all necessary safety precautions:

Before workers enter a site, employers must ensure that they test oxygen levels and check for toxic chemicals.

Ensure exits are accessible and safe:

Construction crews working in trenches usually use ramps to enter and exit a trench safely. Employers need to ensure the trench's access points are properly maintained to avoid accidents, such as falling in a trench.
Recovering Workers' Compensation After a Louisiana Trench Collapse or Excavation Accident
If you suffer from an injury while working in a trench or on an excavation site, you have the right to seek workers' compensation. Workers' compensation is a type of insurance employers acquire to pay for employees' medical bills and lost wages when they sustain an injury or develop an illness while on the job. 
After suffering from an accident, you should be able to recover compensation for all of your expenses related to your injuries, including medical bills, surgeries, physical therapy, in-home care, and more. You should also be able to recover ⅔ of your pre-injury earnings while you're away from work. If your injuries permanently disable you, you may qualify for permanent disability benefits. 
Workers' compensation is a no-fault system, meaning that you do not need to prove that your employer or another employee acted negligently in order to recover compensation. Also, you can still recover workers' compensation benefits even if you were at fault for your own injury on the job. 
Contact a Louisiana Excavation and Trench Collapse Attorney
Although recovering workers' compensation after a trench or excavation accident should be a straightforward process, many workers struggle to recover the full benefits they deserve for injuries. Employers and their insurance companies frequently engage in practices intended to underpay or deny employee benefits. For example, companies will often encourage employees to see workers' compensation doctors. Unfortunately, these doctors can under-evaluate the severity of an employee's injuries in order to save insurance companies money.
If you're having trouble recovering the full workers' compensation benefits you deserve after an injury, you need to contact a Louisiana workers' compensation attorney to assist you with your claim. Here at Lunsford, Baskin, and Priebe, PLLC, we have years of experience assisting Louisiana residents with workers' compensation claims, including injuries that occurred due to trench collapses and excavation accidents. Call our New Orleans office today at 504-788-2994, or you can schedule a free case evaluation here.