The Dangers Of Dump Truck Accidents In Louisiana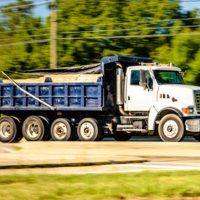 In many ways, dump trucks are not your average commercial truck. Of the heavy commercial trucks, including semi-trucks, logging trucks, and tanker trucks, dump trucks serve an important function, that is hauling heavy materials to be dumped out of the bed of the truck at the final destination location. The typical dump truck has an open bed, and uses hydraulic machinery to lift the bed of the truck upwards, causing hauled material to "dump" out of the bed. Indeed, dump trucks are very important for hauling materials, such as gravel, rocks, and waste, to and from construction sites and large landscaping projects.
However, dump trucks are not only important machines that help people all over the country construct the projects that make up our cities, towns, and homes. They are also extremely heavy and powerful machines that have the potential to cause significant injury when operated incorrectly. Indeed, the average unloaded dump truck can be over 20,000 pounds, and when loaded, dump trucks can weigh in the range of 36 tons.
A recent tragic accident that occurred in Waverly, Louisiana, unfortunately demonstrates the hazards of dump truck accidents. Though the only victim in the accident was also the driver of the dump truck, the accident is not an isolated incident within the context of the many truck accidents that occur on Louisiana roads. Importantly, the accident highlights just how deadly a dump truck can be when involved in a wreck or collision, and cautions all drivers who may share the road with dump trucks.
Louisiana Man Tragically Dies in Dump Truck Accident
In the early morning hours of November 3, 2022, around 9:00 am, 48-year-old Frederick Russell, of Shreveport, sadly passed away when the dump truck he was driving ran off of Interstate 20 at Louisiana Highway 577 and collided with an overpass. Mr. Russell was driving a 2018 Kenworth dump truck and was traveling eastbound on the Interstate when the truck veered off of the road and hit the overpass. Mr. Russell was pronounced dead at the scene of the accident. Investigation into the accident is currently still pending. Significantly, local news reports regarding the accident note that the tragic dump truck accident is one of 26 fatal car accidents that Louisiana State Patrol has investigated in 2022 alone. In the 26 car accidents, there were 29 fatalities.
Your Options When You or a Loved One Are Involved in a Car Accident in Louisiana
If you or a loved one have been injured in a truck or car accident in Louisiana, it is important to speak with an experienced Louisiana personal injury lawyer about your rights and options. Depending on the unique facts of the case, you may be entitled to monetary compensation for your injuries. The skilled and experienced New Orleans personal injury lawyers at Lunsford Baskin & Priebe offer a free and confidential consultation to learn about your car or truck accident and to see if they can help fight for justice by your side. Contact Lunsford Baskin & Priebe today and speak to a lawyer about your rights for free.
Source:
ksla.com/2022/11/04/dump-truck-hits-overpass-killing-caddo-man/