Not Just Texting And Driving: Distracted Driving In Mississippi Car Accidents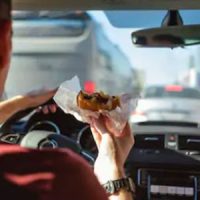 We've all seen it: a driver of a moving vehicle staring not at the road, but at a cellphone screen. With 75% of Mississippi drivers reporting that they have used a cellphone to make a call while driving and one-third reporting that they have used a phone to text while driving, it comes as no surprise that distracted driving due to cell phone use is a leading cause of car accidents in Mississippi. Accordingly, whether a driver is texting, looking at their GPS, making a phone call, or checking social media, distracted driving due to cell phone use is extremely hazardous for everyone on the road.
While cell phone use is undeniably a major factor in car accidents in Mississippi, there are a number of other reasons that drivers become distracted on the road. Other causes of distracted driving in Mississippi car accidents include:
Eating and/or drinking while driving;
Engaging in personal activities while driving, such as conversing with passengers;
Shaving while driving;
Listening to music while driving, especially through the use of earbuds or headphones;
Attending to pets or children while driving;
Feeling fatigued or drowsy while operating a vehicle; and
Being angry or focusing on strong emotions while driving.
While some causes of distracted driving may seem silly or absurd, in the United States people drive frequently, and may become too comfortable on the road. In addition, it is important to note that no matter what the cause of distracted driving may be, according to the Mississippi State Department of Health, in close to 80% of all car accidents and 65% of near-accidents distracted driving played a factor in the last three seconds before the incident occurred.
Negligent Driving and Car Accidents Due to Distracted Driving
All drivers on the road have a duty to operate their vehicles safely and to avoid car accidents. Therefore, if a person causes a car accident because they were driving while distracted, and causes injury to another person and/or property damage, even if they didn't do so intentionally, they may be on the hook for monetary damages. Accordingly, victims of negligent driving car accidents due to distracted driving should be aware that they have rights and options, and may be able to get compensation under Mississippi laws.
Turn to a Mississippi Personal Injury Lawyer
The bottom line is if you have been injured in a car accident in Mississippi due to another driver's negligence, you have rights and options, and you may be entitled to compensation for your case. It's important to speak to an experienced Mississippi personal injury lawyer as soon as possible after the car accident occurs, due to time limitations under the law and to get the best start possible initiating a personal injury lawsuit. An experienced Batesville personal injury lawyer can investigate your case, discuss your rights and options, and guide you through the next steps in your case. The experienced Mississippi personal injury lawyers at Lunsford, Baskin & Priebe offer a free and confidential consultation to learn about your case and to see if they can help. Contact the law offices of Lunsford, Baskin & Priebe today to schedule your consultation with a lawyer.
Sources:
msdh.ms.gov/msdhsite/_static/43,9709,98,483.html
msdh.ms.gov/msdhsite/_static/43,9709,98,483.html