North Carolina Scaffolding Accident Kills Three Scaffolding Workers – Dangers Of Scaffolding Workplace Accidents Highlighted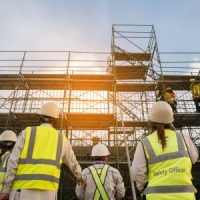 Whether building a high-rise tower in a chic metropolitan neighborhood, or a small duplex in a suburban cul-de-sac, construction workers cannot do their jobs without the assistance of scaffolding. Scaffolding helps construction workers in Louisiana and all over the country clean, repair, and build all types of buildings. Indeed, without scaffolding, builders and construction workers throughout the United States could not reach the heights to do the work they need to do, which often spans over multiple levels and stories of buildings. However, with the use of scaffolding brings the risk of falling accidents. Scaffolding allows workers to work at great heights, but even with the most careful of inspections and installation in place, and the most careful and observant workers, accidents can and do happen. An accident involving three workers in North Carolina in early January, 2023, brings to light just how dangerous scaffolding can be to workers throughout the country.
On January 2, 2023, three construction workers were working at a site in Charlotte, North Carolina, when terror struck. The scaffolding that the three workers were using to work on the project collapsed under them, killing all three men. The men were identified as Jose Canaca, Gilberto Monico Fernandez, and Jesus "Chuy" Olivares. In addition to the three workers that sadly passed away, another two workers were injured in the scaffolding collapse. Local North Carolina authorities are investigating the accident.
Local reports note that the terrible accident brings to light the dangers of scaffolding in construction work. While OSHA has regulated scaffolding and has promulgated procedures for proper scaffolding erecting and use at project sites, these rules and regulations are not always followed. According to the Bureau of Labor Statistics, 52 deaths occurred in the year 2020 as a result of falling from scaffolding.
Help for Injured Workers in Louisiana
Almost no project can be built in Louisiana without scaffolding, and, unfortunately, the risks involved for workers using scaffolding can never be totally avoided. In addition to falling from scaffolding accidents, construction sites and other workplaces can contain a number of hazards that present a risk of on-the-job injury for Louisiana workers. Fortunately, for Louisiana workers who have been injured on the job and are unable to work, there may be options.
If you have been injured on the job in Louisiana, you may be entitled to workers compensation benefits under Louisiana workers compensation laws, including wage replacement compensation, money for medical costs, rehabilitation, and other important benefits to get you back on your feet. If you have recently been injured on the job, it is important to speak to an experienced Louisiana workers' compensation lawyer about your rights, options, and next steps. The experienced and skilled Louisiana workers' compensation lawyers at Lunsford Baskin & Priebe offer a free and confidential consultation to learn about your case and to see if they can help you with your Louisiana workers' compensation case. Contact Lunsford Baskin & Priebe today and speak with a lawyer about your Louisiana workers' compensation case for free.
Source:
constructiondive.com/news/collapse-that-killed-3-underscores-importance-of-scaffolding-safety/642155/