Louisiana Worker Loses Life At Louisiana Polymer Facility Due To Tragic Forklift Accident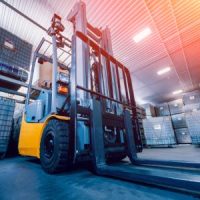 A terrible tragedy involving a Louisiana worker shook Baton Rouge just two weeks ago. On Wednesday, March 29, worker Billy Hebert, a 67-year-old Louisiana man, was reportedly working at KTN Louisiana, LLC, when he was killed after a forklift fell on him at the polymer facility. The facility is located on Thomas Road in Baton Rouge. Mr. Hebert's tragic death due to his accident with a forklift is, sadly, not an isolated incident. Forklifts pose an extreme risk to workers, and many forklift injuries and deaths have been reported throughout recent years.
National Safety Council Highlights Risks Forklifts Pose to Workers in the Workplace
Forklifts are used by workers in order to transport heavy materials and goods, particularly where there are no roadways. Forklifts may include other forklift-like machines used by workers to transport large items, such as order pickers and powered platform trucks. Acknowledging the risks and hazards that forklifts pose to workers in the workplace, the National Safety Council (NSC) compiled data from forklift accidents to demonstrate just how serious the risks are for workers who work with forklifts. According to the NSC, in 2021 alone, there were a total of 70 reported forklift-involved worker deaths in the United States. In terms of forklift-related injuries, the NSC reports that in 2020, there were 7,290 nonfatal forklift injuries throughout the country. In contrast, the NSC reports a total of 1,176,340 total workplace injuries throughout the United States in 2020. The NSC reports that forklift-involved injuries typically result in worker time off of 17 days, while other workplace injuries result in workers taking off 12 days.
According to the United States Bureau of Labor Statistics, in 2021 alone, there were a whopping 5,190 worker deaths due to workplace accidents in the United States. Disturbingly, despite advancements in technology and worker safety measures, this figure represents an 8.9% increase in worker deaths from the year 2020.
Where to Turn if You are Injured on the Job in Louisiana
Whether by forklift or other means, Louisiana workers may find themselves seriously disabled from a workplace injury and unable to earn a living. When this happens, most workers are eligible to receive important Louisiana workers' compensation benefits to help them survive while they are out of work and recovering from a workplace injury. If you were involved in a workplace accident in Louisiana and, as a result, you are now unable to work, it is important to learn about your rights and options as soon as possible. The best place to start is to speak with an experienced Louisiana workers' compensation lawyer about your entitlement to workers' compensation benefits. The experienced Louisiana workers' compensation lawyers at Lunsford Baskin & Priebe offer a free and confidential consultation to learn about your case and to see if they can help. Contact Lunsford Baskin & Priebe today and speak to an experienced Louisiana workers' compensation lawyer about your rights and options for free.
Source:
brproud.com/news/local-news/worker-killed-by-forklift-at-baton-rouge-polymer-facility/