Mississippi Auto Accident That Turned Violent Highlights What To Do When A Car Accident Turns Into A Crime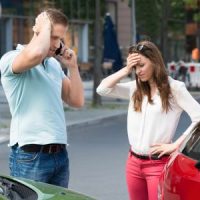 When a person is involved in a car accident, it is almost always a pretty scary time. Even a fender bender can cause some injury, and even if injuries are only scratches, bruises, and minor cuts, a car accident is sure to leave a person shaken, no matter who they are. However, a car accident takes on an entirely different level of hazard and danger when the occupants of one of the cars involved decides to engage in criminal acts. Although the situation is one that hopefully doesn't occur too often, if it does, it is good for Mississippi drivers to be aware of all potential dangers on the roads, and to have an idea of what to do if criminal activity occurs during a car accident.
The recent car accident, in which a car crash turned into a criminal opportunity for an occupant of one of the vehicles, occurred in late November on Fulton Street in Lincoln County, Mississippi. According to local news reports regarding the accident, two Mississippi men were involved in a car accident, and one of the men demanded a certain amount of money from the other man. When the man did not produce the money, the situation turned into an armed carjacking. It is so far unclear from news reports how many individuals were involved in the car accident and resulting carjacking, and how many occupants were in the cars total. However, two men have been arrested in connection with the car accident and carjacking. One man was charged with armed carjacking and assault with a deadly weapon, and the other was charged with carjacking and kidnapping. Reports note that the investigation into the car accident and the resulting criminal acts is still ongoing, and more arrests may follow.
What to do When a Car Accident Turns into a Crime Scene
The first thing to keep in mind when a car accident happens –whether it results in criminal activity or not – is to put health and safety front and center. Especially if a car accident is dangerous or deadly, or anyone is injured, emergency services should be called. A person who is injured in a car accident should get medical attention right away. If a car accident turns into a criminal incident, such as a carjacking, assault and battery, or a robbery, law enforcement should also be called right away. Of course, a person involved in any type of car accident, after receiving medical treatment, should take all the necessary steps that are prudent to do after a car accident, such as notifying the car insurance company. If criminal activity has occurred in the course of the car accident, and law enforcement has been notified, it is important to note that police and prosecutors may follow-up on the incident. Finally, it is important to get in touch with an experienced Batesville personal injury lawyer to discuss entitlement to compensation under Mississippi personal injury laws. Under Mississippi laws, a person may be entitled to money compensation if they were the victim of a car accident that was another person's fault, and suffered injuries.
Help with Your Mississippi Car Accident Case
If you have been involved in a car accident and you need to speak to legal counsel, contact Lunsford Baskin & Priebe today. The experienced Mississippi car accident lawyers at Lunsford Baskin & Priebe offer a free and confidential consultation to learn about your car accident and to see if they can help. Call Lunsford Baskin & Priebe today and speak to a lawyer about your rights for free.
Source:
magnoliastatelive.com/2022/12/08/two-mississippi-men-arrested-after-car-accident-turns-into-armed-carjacking/