Louisiana Highway Department Worker Killed, Two Injured In Tragic Log Truck Collision In Mansfield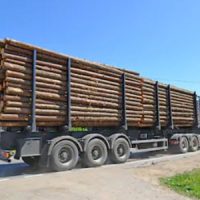 Workplace accidents often happen when we least expect it. A worker can be going about their typical duties and doing even the most mundane of tasks when a workplace accident can strike, rendering the worker severely injured and unable to do their usual job. In jobs where hard manual labor is the norm, workplace accidents are of course more prevalent, but sometimes they are also the product of totally unexpected and unanticipated actions by another individual. Road worker jobs and department of transportation jobs that involve hard labor and worksites out on the road with the flow of daily traffic are jobs that present many hazards to workers. Indeed, even when a road worker follows all safety guidance and simply does their job, they may be involved in a horrible workplace accident that can render them injured, disabled, or even dead. Unfortunately, such a horrific and tragic case occurred this week in Mansfield, Louisiana, when a highway department crew working out on the road was involved in a collision accident with a logging truck.
Local news stations report that Chris Gray, a 35-year-old Louisiana Department of Transportation highway department worker was killed on January 29, 2023, when a logging truck crashed into the roadside worksite on U.S. 171 where he and other workers were working. Mr. Gray and other workers were filling potholes when the logging truck collided with their work vehicle, a 2015 Ford dump truck. Mr. Gray was standing behind the dump truck when he was hit. Law enforcement authorities believe that the driver of the logging truck, which was empty at the time, first hit a state department of transportation truck that was stopped in the road, then hit the Ford dump truck and Mr. Gray. Highway department workers Jalen Singleton and Mario Ross were also involved in the accident. Mr. Singleton is said to have suffered "serious injuries" and Mr. Ross was released from the hospital with "moderate injuries." The Louisiana Department of Transportation released a statement expressing their condolences to Mr. Gray's family and their well-wishes to Mr. Singleton and Mr. Ross." The Department of Transportation also stated, "The department can't stress enough the importance of not driving distracted, especially in an active construction zone. Pay attention to your surroundings and slow down when you see workers and equipment – not only for their safety, but also for yours."
If you or a loved one has suffered from injuries related to a workplace accident in Louisiana, it is important to discuss your legal rights and options with an experienced Louisiana workers' compensation lawyer as soon as possible. The experienced Louisiana workers' compensation lawyers at Lunsford Baskin & Priebe offer a free and confidential consultation to learn about your workplace accident and injuries and to see if they can help fight for you to get compensation due. Contact the law offices of Lunsford Baskin & Priebe today and speak to a lawyer about your rights and entitlements to compensation for free.
Source:
kiro7.com/news/trending/louisiana-worker-filling-potholes-killed-when-vehicle-crashes-into-dump-truck/DCLGGK4FUZDF5C54X7S2FS5WZM/