How Louisiana Protects First Responders Injured On The Job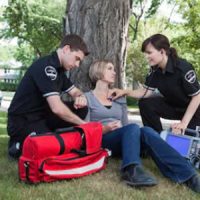 First responders in the Pelican State keep our citizens safe and healthy. In addition to responding to fires and crime scenes, local first responders also face some unique challenges, like hurricanes and mosquito problems. These hazards can lead to serious injury and illnesses among the ranks of first responders.
Louisiana laws protect first responders by providing them with workers' compensation reflecting the unique challenges to their jobs, including people who suffer from PTSD and cancer that developed as a result of their employment.
PTSD and First Responders
The Substance Abuse and Mental Health Services Administration estimates that one-third of first responders nationwide develop Post-Traumatic Stress Disorder over the course of their career. This disorder can cause nightmares, flashbacks, and even chronic pain that can last for years.
In 2019, Louisiana Governor Edwards signed a law that will speed up the process for first responders seeking workers' compensation claims for PTSD by raising this injury to a compensable presumption
This law allows police officers, sheriffs and their deputies, emergency medical personnel, and fire fighters, including volunteers, to receive compensation for treatment of PTSD they receive from on the job. First responders are often faced with terrible scenes on the job that lead to lasting trauma.
This law will help previous and current first responders pay for treatment associated with this trauma.
Cancer and First Responders
First responders are also more likely to be diagnosed with cancer than the general public. Louisiana provides workers' compensation benefits to some first responders who developed cancer while on the job.
First responders are often exposed to carcinogens, including smoke and noxious fumes in the line of duty. This is especially the case for firefighters. In fact, according to the CDC, cancer is a leading cause of death among firefighters across the country.
Louisiana law allows first responders to receive workers' compensation for treatment of cancer and tumors, if these conditions were caused by their employment.
Louisiana's workers' compensation laws create a presumption for cancer of the bladder, brain, colon, liver, pancreas, skin, kidney, gastrointestinal tract, or blood (leukemia), meaning that it's slightly easier for first responders with these cancers to receive compensation. Workers who can't work because of continuous disability that comes from cancer and cancer treatments can also receive workers' comp.
However, because of the way Louisiana's law is written, it can be difficult for first responders to receive benefits they deserve without the help of a local workers' compensation attorney. First responders, unfortunately, often find claims denied by local claims examiners.
Supporting our first responders
The past few years have been really rough for Louisiana's first responders, who already have a tough job. If you're a first responder suffering from a workplace injury or illness, you shouldn't have to fight on your own to get the compensation you deserve.
The legal team at Lunsford, Baskin & Priebe, PLLC is honored to support the people who put their lives on the line for us. Contact us today for a free legal consultation with a Louisiana workers' compensation attorney.
Sources:
ldh.la.gov/page/1930
samhsa.gov/sites/default/files/dtac/supplementalresearchbulletin-firstresponders-may2018.pdf
legis.la.gov/legis/BillInfo.aspx?i=235999
cdc.gov/niosh/newsroom/feature/firefighter-cancer-awareness.html