Four Common Workers' Compensation Injuries For Restaurant Workers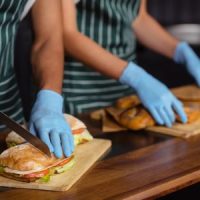 People in the service industry may be hesitant to seek medical treatment because they don't have insurance. However, if you're a restaurant worker who's suffered an injury or illness at work, you have a right to file a workers' compensation claim.
By filing workers' comp, you can receive money to cover the costs of medical treatment, as well as a portion of your wages while you were out of work recovering. Your workplace also isn't allowed to retaliate against you for seeking treatment and filing a claim.
Here are some common injuries that restaurant workers can receive workers' compensation for.
Burns
People who work in kitchens often receive burns to their hands and forearms from stovetops, taking pans out of hot ovens, and even spilling hot oil. While many of these burns are superficial and heal within a day or two, other burns can be significantly more serious.
Restaurant workers may suffer third degree burns within seconds of coming into contact with boiling water. If you've been seriously burned in a kitchen, you should seek immediate medical treatment.
Cuts
Cooks and chefs are also more likely to be injured by knives or other sharp objects. While most people who work in a kitchen are trained, it's still possible for a knife to slip and cause a serious injury. Even though commercial kitchen knives are clean and washed regularly, food or other items on the knife can cause an infection in the wound.
Additionally, someone who cuts themselves and bleeds may expose their coworkers to bloodborne pathogens, which can cause additional infection.
Strains and sprains
Cooking involves a lot of standing in one place and making the same motion over and over. Whether a job is to stir a vat of soup, or chop potatoes, a cook can perform the same actions over a long period of time while standing in the same position. This can cause muscle strains and sprains, especially on the side of their body with their dominant hand.
Slip and Falls
Working in the kitchen isn't the only way to injure yourself while working at a restaurant. Servers and bussers carrying heavy trays and plates of food may suffer serious slip and fall accidents. These accidents can lead to sprained and broken bones, or slip a disk, which can be extremely painful to recover from.
People who are injured in slip and fall accidents may also be out of work for weeks or even months while they recover.
Consult a local workers' compensation attorney today
You have a right as an employee to seek compensation to treat injuries you receive while working, as well as compensation for lost wages while you were healing from these injuries.
If you need help filing a workers' compensation claim, you should contact the Louisiana and Mississippi workers' compensation lawyers at Lunsford, Baskin & Priebe, PLLC for a free consultation today.
Source:
osha.gov/etools/young-workers-restaurant-safety/cooking