Top Three Professions Likely To Suffer From Knee Injuries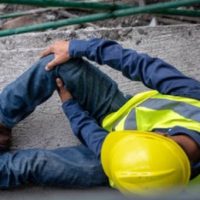 Knees are a vital part of human anatomy. They allow us to walk up and down stairs, and even sit and stand. Knee replacements can take up to a year to recover from, because the joint is so complicated and we rely on it every day.
Here are three jobs that are more likely to aggravate knees and cause lasting injury, according to a study by researchers from the University of Sydney in Australia and The Universities of Oxford and Southampton in the United Kingdom.
Construction work
Construction workers can be particularly brutal on all parts of the body. This work includes lifting and carrying large objects, as well as kneeling and squatting. In particular, bricklayers, carpenters, and floor installers, who spend a lot of time kneeling, are three times as likely as sedentary workers to develop arthritis in their knees.
Additionally, floor installers and carpet layers report some of the highest rates of traumatic knee injuries when compared to the average employee due to the length of time they spend kneeling while at work.
Farmworkers
Farmworkers have similar odds of developing osteoarthritis in their knees as construction workers.  Like construction work, agricultural workers are responsible for lifting and carrying heavy objects, as well as working in bent-over, uncomfortable positions, kneeling, and crawling across uneven surfaces.
According to one study, between 15 and 23% of agricultural workers suffer from knee pain stemming from this tough job.
Housekeeping
Housekeepers face the highest risk of increased odds for knee osteoarthritis. Housekeepers may be responsible for lifting and carrying heavy objects up and down stairs, cleaning floors, and kneeling to clean under furniture.
Among housekeepers, unpaid houseworkers face the highest risk of knee injury, with 93% increased odds, when compared to sedentary workers.
Protecting your knees while on the job
If you're employed in a position that's more likely to cause injury to your knees, it's important to take precautions to protect this joint.
You should take breaks from your job and make a habit of standing, stretching, and walking around to loosen up your muscles before, during, and after work. Wearing protective equipment like knee pads can also help you protect your knees.
If your knees start to hurt on the job, don't wait to see a doctor. Early detection of knee-related injuries can help maximize the life of your joints and prevent further injury or limited range of motion down the road.
Your doctor can help you treat your injuries, provide proper pain medication, assign you appropriate physical therapy, and may provide advice that will extend the life of your joints.
These visits, and any time off work to care for your knees, should be covered by workers' compensation.
Contact a workers' comp attorney today
If you've suffered a knee injury at work, you don't have to go it alone. Our experienced Louisiana and Mississippi workers' compensation attorneys at  Lunsford, Baskin & Priebe, PLLC help clients get the benefits they deserve.
Sources:
webmd.com/osteoarthritis/features/6-ways-to-ruin-your-knees
webmd.com/pain-management/knee-pain/news/20200714/what-jobs-are-toughest-on-the-knees
cdc.gov/niosh/docs/90-104/default.html
ncbi.nlm.nih.gov/pmc/articles/PMC3593628/