Defective Airbag Deployment. Who Is Liable?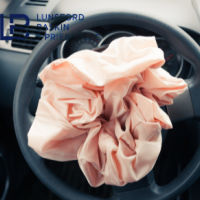 Airbags are important pieces of safety equipment for a car. They are gas-inflated cushions designed to create a protective barrier between drivers and passengers and the hard surfaces in their cars at the time of an accident. They work by relying on crash sensors to trigger the rapid expansion of nitrogen gas into the cushion, which may pop out from the steering wheel, door, roof, dashboard, or seat of your car, depending on whether they are front or side airbags. Although airbags were first offered in a very limited capacity (to government cars) in the 1970s, they did not become mandatory in all new cars until 1998.
Airbag Pros:
According to NHTSA, front airbags reduce driver fatalities by 29% in frontal crashes.
Front airbags reduce deaths of front seat passengers (age 13 and older) by 32%.
Head-protecting side airbags reduce driver fatalities by 37%.
Torso-only side airbags reduce driver fatalities by 26%.
Head-protecting side airbags for SUVs reduce driver fatalities by 52%.
Torso-only side airbags for SUVs reduce driver fatalities by 30%.
An estimated 50,457 lives have been saved by front airbags as of 2017.
Airbag Cons:
Earlier generations of airbags used more force than those in use today.
Between 1990 and 2008, an estimated 290 plus deaths were caused by front airbag inflation in low-speed crashes. (Airbags are more sophisticated now.)
Typical airbags deploy at 200
More than 6 million vehicles were affected by the Takata airbag recall, but before that happened, their explosively deploying airbags injured 300 people and killed 24.
In 2019, U.S. safety regulators investigated 3 million airbags made by ZF-TRW. Some of them had failed to deploy in crashes and had caused at least 8 deaths.
Airbags are overwhelmingly safe, but occasionally they are defective, installed incorrectly, or not installed at all.
What could go wrong?
An airbag could deploy too early or too late.
Internal tethers (which are supposed to "fail" sometimes when drivers or passengers are seated in dangerous positions, such as slumped over the wheel) could work incorrectly.
Sensors could malfunction, causing airbags to deploy in low-speed accidents.
A computer malfunction could cause an airbag to deploy when the vehicle drives over a pothole or bump in the road.
An airbag may be installed incorrectly or not at all by the car manufacturer.
Counterfeit airbags exist and could be installed (unknowingly) if you replace your airbags after an accident and rely on a repair shop or an internet buy.
As of 2019, more than 100,000 Mississippi residents were driving around with defective airbags. Although there was a massive recall effort, not all residents of our state either received it or acted upon it. If these airbags go off in a crash, they could propel sharp fragments of metal at drivers or passengers.
A company may be guilty of "failure to warn," meaning that they did not publicize a necessary recall or did not adequately explain any airbag-associated risks. (For example, small children should not be seated in the front seat of a car.)
Recent news
In 2020, the state of Mississippi received $1.2 million as a result of a settlement with Honda. Honda was alleged to have failed to inform customers that their airbags could explode and injure passengers. According to WLBT, Mississippi's attorney general, Lynne Fitch, declared that the state would "hold companies accountable and require fairness and integrity when dealing with customers in Mississippi."
In November of 2020, a driver of an older Volvo was killed by metal fragments from an exploding airbag, causing a recall of 54,000 cars. Some of these cars were sold or registered in Mississippi.
What injuries could occur as a result of a defective or improperly installed airbag?
If you believe that you have been injured by an improperly functioning airbag, or if a family member has been killed, you will need an experienced car accident attorney to make sure that you are properly compensated and to discuss the option of litigation.
Who could be liable?
The manufacturer of the airbag
The car manufacturer
A repair shop that installed an airbag after an accident
A combination of those above
Lunsford Baskin & Priebe can help!
When you hire our firm of Lunsford Baskin & Priebe to represent you, we will protect your rights and fight for the maximum compensation possible after your airbag injury. We will conduct an independent investigation and gather all evidence. We will make sure all responsible parties are on notice and speak with witnesses.
Call us for a free consultation at 601-488-3975. Or feel free to contact us online.