Common Causes of Louisiana Rollover Accidents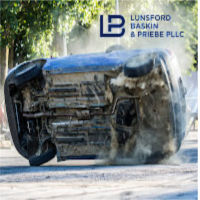 Although all car accidents are traumatic and frightening, there is a particular kind of terror that comes from being thrown around upside down as a vehicle rolls over with you trapped inside of it. Rollover accidents have a high fatality rate, especially for drivers and passengers who are not restrained by seatbelts.
A rollover accident is any type of crash where the vehicle either rolls onto its side or roof. In many cases, the vehicle may roll several times. In some cases, the vehicle may even flip end to end.
Statistics
According to the Insurance Institute for Highway Safety (IIHS), rollover accidents accounted for 28% of all passenger vehicle occupant deaths in 2019.
In 2019, 6,358 passenger vehicle occupants died in rollover crashes.
In 2019, rollover crashes accounted for 20% of occupant deaths in cars, 38% of occupant deaths in pickups, and 39% of occupant deaths in SUVs.
In single-vehicle crashes, rollover accidents accounted for 49% of all passenger vehicle occupant deaths in 2019.
In 2019, single-vehicle rollover crashes accounted for 16% of occupant deaths in cars, 30% of occupant deaths in pickups, and 29% of occupant deaths in SUVs.
In multiple-vehicle crashes, rollover accidents accounted for 12% of all passenger vehicle occupant deaths in 2019.
Taller vehicles (like SUVs) have high centers of gravity that make them more likely to tip over than cars. However, SUVs are much heavier than cars, so are more likely to fare well in multi-vehicle crashes.
Rollovers are horizontal 98% of the time.
Only 1-2% of rollover crashes involve a vehicle flipping end over end.
Safety Features
Rollover accidents have become somewhat safer for occupants as new safety features have been introduced.
Electronic Stability Control (ESB): This helps a vehicle remain on the road after a driver has to apply brakes during a turn. The NHTSA has mandated this device in all new passenger vehicles manufactured since 2012.
Side impact airbags operate like a curtain that protects occupants from slamming their heads against side windows. They work well in addition to seatbelts but are not meant to be a  replacement for them.
Variable Ride Height Suspension Systems: These can allow vehicles to ride higher over rough terrain and ride lower on highways, making them less top-heavy and less likely to roll over in a crash.
Types of vehicles most likely to roll over
2016 GMC Yukon
2013 Hyundai Accent
2012 Dodge Nitro
2011 Honda Element
2017 Nissan Nv3500
Common causes of rollover accidents:
High center of gravity: Because taller vehicles have a higher center of gravity, they are more likely to roll over in single-vehicle accidents. They are also more likely to be affected by gusts of wind (although this is more of a problem for semi-trucks).
Speed: Speed is a huge factor in rollover accidents, particularly as drivers try to negotiate turns while traveling quickly. The NHTSA reports that approximately 40% of rollover accidents are speed-related.
Alcohol: Almost 50% of all fatal rollover accidents involve alcohol.
Rural areas. Rural roadways with no dividers and 55 mph speed limits are the locations for 72% of fatal rollover accidents, according to the Federal Highway Administration (FHWA).
Vehicle problems: Worn or separated tire treads, faulty suspension, failing brakes, and defective steering mechanisms can all cause rollover accidents. According to the NHTSA, there were 738 fatalities in the United States in 2017 because of tire blowouts. Any blowout can lead to a rollover accident, particularly if a driver overcorrects while trying to maintain control of the vehicle.
Tripping: Fully 95% of single-vehicle rollover accidents are instigated by the vehicle coming in contact with a curb, guardrail, pothole, or even soft dirt, according to the  NHTSA. The sideways lurch can cause the vehicle to leave the road. Not all roads in Louisiana are as well maintained as they should be.
Another driver: If another driver crashes into you, especially at a high rate of speed, it may cause your car to tip and roll. It may also cause your vehicle to lurch to the side, causing an instinctive overcorrection on your part that prompts the roll.
Poor weather conditions: Fog and rain can factor into accidents in Louisiana, particularly when combined with speed.
Distracted driving: In 2019, 3,142 people lost their lives in accidents caused by distracted or inattentive drivers. A driver who is texting, eating, or not paying close attention to traffic can easily lose control of his or her vehicle, causing a rollover accident.
Recent Louisiana rollover accidents
August 14, 2021: One person was killed and another critically injured in a rollover accident on Louisiana Highway 3132 at West 70th Street in Shreveport. Both the driver and his passenger were ejected from their pickup truck. Witnesses said that another vehicle had sideswiped the pickup truck, causing the rollover.
June 28, 2021: A 19-year-old woman was killed in a single-vehicle rollover crash on Farm Supply Road in Jefferson Davis Parish. The vehicle left the road and rolled onto its roof before becoming submerged in a flooded field.
June 10, 2021: A Louisiana man was killed and his passenger injured in a single-vehicle accident in Michigan that caused his car to roll over several times. The driver was not wearing a seatbelt and was ejected from the vehicle. Police believe that speed was a factor in the accident.
Common injuries from rollover accidents
Traumatic brain injuries
Loss of limb due to being crushed in a partial ejection
Internal injuries
PTSD
If you have been involved in a Louisiana rollover accident, you may be facing serious injuries and not know where to turn. Whether the fault lies with another driver, poorly maintained roads, or defective vehicle equipment, you may be able to collect compensation for your injuries and damages. Contact an experienced Louisiana car accident attorney.
When you hire Lunsford Baskin & Priebe PLLC to represent you, we will protect your rights and fight for the maximum compensation possible. We will conduct an independent investigation and gather all evidence. We will make sure all responsible parties are on notice and speak with witnesses.
After we have your medical records and billing, we will verify the extent of your injuries and what your future prognosis is. In serious injury cases, we may need to retain medical experts and vocational experts to explain what your future care needs will be.
Negotiating with insurance companies is one of the most stressful aspects of a claim. We will handle all negotiations. If discussions break down or there's an impasse on liability, we will prepare to file a lawsuit on your behalf. If it becomes necessary to take your case to trial, we have the resources and experience. We aren't afraid to back down from an aggressive court battle.
To learn more about how we can help you after being injured in a car accident, contact Lunsford, Baskin & Priebe, PLLC today to schedule an initial consultation.
Call 601- 983- 2667 or contact us online.