Documenting Your Workplace Injury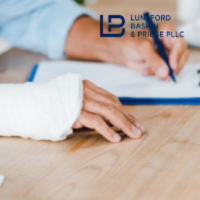 After being injured at work, you will probably have many emotions and thoughts flooding your mind, such as pain, fear of financial hardship, anger, frustration, etc… In the midst of all this, it's doubtful that a desire to document your experience is uppermost in your thoughts, but it is important to record as many details about the accident as soon as possible.
Insurance companies are not known for their eager desire to pay any kind of claims, and that includes Workers' Compensation claims. You will support your case if you have accurate documentation that you write while everything is still fresh in your mind.
Another advantage to having detailed notes about your level of pain and what happened to you is that your physician will have a comprehensive picture of your health. It is easier to communicate clearly when you have notes to remind you.
What kinds of things should you document:
The date and time of the accident
The names of any co-workers who witnessed the accident
The events that led up to your injury
Exactly how you were hurt
The names of any supervisors to whom you reported the incident as well as their titles and subsequent actions
The exact location on your body of your injury as well as a full description of your pain
If you can, take photographs of the location where you were hurt. Make sure to include any wet floors or obstacles or faulty equipment that may have contributed to your injury.
If anyone else witnessed the accident, ask them to write a narrative of exactly what they saw.
If you are unable to write because of your injury, you can record voice memos and ask someone else to type them up. Save the originals.
Take photographs of your injury, not just immediately after it happens, but as it progresses. For example, often bruises and inflammation occur later.
Keep all notes about doctor visits, surgeries, and medications.
What could go wrong?
It's possible that you end up being diagnosed with a back injury, but when you fell, the only thing you noticed was the pain from your broken arm. Later on, the insurance carrier could dispute your claim because you didn't mention back pain in your original injury report. Record all the pain that you feel — don't leave anything out or attempt to edit yourself.
You may feel that you should only focus on major details, but include everything. You never know when you may need to look back and consult your notes.
If you have a back, neck, or spine injury, you may need a lengthy recovery period. These types of injuries can occur over a stretch of time and be due to repetitive motions as opposed to a single fall. Document the onset of all pain or loss of range of motion. Insurance carriers often dispute these types of injuries and claim that they aren't caused by the workplace. The more documentation you have, the better. You need an experienced attorney in your corner to navigate the complicated workers' comp system on your behalf and get you the benefits you are entitled to.
First responders and others may also suffer from cumulative types of infirmities. These infirmities include hypertension, post-traumatic stress, hepatitis, hearing loss, and cancer. Workers' compensation carriers don't always want to acknowledge these claims, despite special laws written to ensure these essential workers get the medical care and compensation they need when injured doing their vital jobs.
In these situations, detailed documentation will support your case. The workers' compensation lawyers at Lunsford, Baskin & Priebe PLLC are well-versed in first responder workers' comp claims in Mississippi and Louisiana. We know the law, and we have the skills, stamina, and resources to take on the largest workers' comp carriers and make sure you get the benefits you need and deserve.
Basic steps to follow after a workplace injury
Notify your employer/supervisor as soon as possible. The Mississippi Workers' Compensation Commission deadline for this is within 30 days, but the sooner you notify your boss, the sooner the claims process will get rolling.
Seek medical help.
Get a copy of all of your medical records. You may need to prove that your injury was not pre-existing, or that your pre-existing injury was exacerbated by this new workplace injury.
Document, document, document!
Consider consulting a workers' compensation attorney to help you navigate the complex minefield of workers' comp with expertise and compassion.
Knowing what the law requires is one thing; standing up to the insurance carrier when they deny your claim or cut off your benefits prematurely is another. Our professional, dedicated team at Lunsford Priebe & Baskin PLLC has years of experience practicing exclusively in the area of workers' compensation law.
We'll take on the task of making sure you get your benefits promptly and fully paid, including appealing claim denials if necessary. For help with a Mississippi workers' compensation claim, call the Jackson workers' compensation lawyers at Lunsford, Baskin & Priebe PLLC in Jackson for a free consultation at 601-488-3975.