Can I Receive Workers' Compensation If I Was Injured While Driving My Car?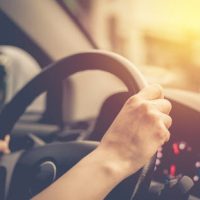 Workers' compensation is available to employees who have a work-related illness or injury. While many injuries or illnesses occur on an employer's property, it's possible to receive workers' compensation when you are off-site, and even if an accident happens when you're driving your personal vehicle.
Here are some common driving scenarios that you may, or may not, be able to receive workers' compensation from.
I was driving my car during work hours and got into an accident
In many situations, people driving their own car for work purposes can receive workers' compensation if they were injured while driving. These situations include:
Driving to go shopping for the company or for your boss, such as buying office supplies from a big box store
Driving clients to different sites, like a realtor who takes house buyers to different neighborhoods
Using your car to make deliveries, such as a supermarket that delivers food to customers
Traveling for work, including carpooling with coworkers to a conference in the next county
Driving your car on a regular basis for work, like a pharmaceutical representative who visits doctors' offices across town.
However, your eligibility for workers' compensation depends on your employment classification. Employees can receive workers' compensation. Independent contractors, including people who work for companies like DoorDash or GrubHub, cannot receive workers' compensation when they were injured on the job.
I was commuting to or from work and got into a car accident
Generally, workers' compensation is not available to people who were injured while they were coming from or going to work as part of their commute. Even though you wouldn't have been driving if you weren't going to work, courts won't usually grant workers' compensation for these claims, unless there was an additional work-related component to the trip. For example, someone who stopped at the post office to pick up stamps on the way in could receive workers' compensation if they got into a car accident between the post office and the office.
If you were driving a company car, or driving between job sites, when you got into an accident, you should be able to receive workers' compensation from your employer.
I have a long-term injury related to driving for work
workers' compensation isn't just available for people who have immediately apparent injuries, such as broken bones. It's also available to people who have long-term, repetitive stress injuries. Sitting for a long time in a car can cause serious back and knee problems.
An employee who drives their vehicle regularly for work, such as the pharmaceutical representative, may develop some of these injuries over time. They are certainly eligible for workers' compensation benefits.
Consult an experienced workers' compensation attorney today
If you have a work-related injury from driving your car, you should contact a Louisiana & Mississippi workers' compensation attorney today. Our team can help you get the compensation you deserve to fully recover from your injuries.