Working On The Road: Common Injuries Suffered By Mississippi's Hard-Working Truck Drivers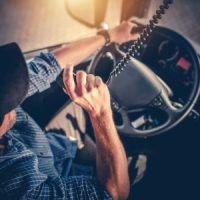 Truck drivers are an integral and important part of America's supply chain, economy, and job market. In 2019, 3.5 million professional truck drivers were out on the road and employed by trucking companies throughout the United States, and delivered 80% of the goods we use every day in our lives to American stores, ports, warehouses, hubs, and businesses. In 2019, 85% of commodities used by Mississippians were delivered by truck drivers. To deliver those goods, Mississippi truck drivers drove over 4.5 billion miles all over the United States, and perhaps even to Mexico. If you eat, drink, use medication, tools, and your child plays with toys in Mississippi, those products and goods were at some point, almost certainly on a Mississippi truck.
Truck driving is undoubtedly a difficult and often thankless job. Truck drivers suffer a host of workplace injuries that can disable them and make them unable to work their truck driving job. Here are several common injuries in the truck driving industry that truck drivers and their families should be aware of:
Sprain and strain injuries from sitting for prolonged periods: truck drivers must sit and drive for prolonged periods –hours on end—which is hard on the spine. They also must go from this sitting posture to jumping out of the truck and lifting heavy loads, which can cause strains and sprains in the spine, neck, and limbs. Sprain and strain injuries can be very serious and can impair a driver to the point of not being able to work.
Injuries caused by motor vehicle collisions: truck drivers, just like all drivers on the road, are at risk of being involved in a motor vehicle collision. Motor vehicle collisions can cause broken bones, which can take a very long time to heal (and may not ever fully heal). A broken bone injury can make it impossible for a truck driver to return to work at their regular job for a very long time.
Injuries to the head: A sudden impact, motor vehicle collision, and falling objects such as large loading dock doors and heavy merchandise stored at height can all contribute to serious and disabling head injuries for truck drivers. A head injury is not only painful, but can impact the skull and brain, which can be seriously debilitating.
Help for Injured Mississippi Truck Drivers
No worker should have to worry about how they will make a living and pay for medical expenses when they suffer a terrible workplace injury. Mississippi truck drivers, fortunately, may have options under Mississippi workers' compensation laws if they are injured in the course of their work. If you have been injured on the job in Mississippi, you should speak with an experienced Mississippi workers' compensation lawyer as soon as possible to learn about your options and what steps you should take next to get your Mississippi workers' compensation benefits. The experienced Mississippi workers' compensation lawyers at the law firm Lunsford Baskin & Priebe offer a free and confidential consultation to learn about your workplace injury and to see if they can help fight for you to get Mississippi workers' compensation benefits. Contact Lunsford Baskin & Priebe today and speak to a lawyer about your case.
Source:
clarionledger.com/story/opinion/columnists/2019/09/09/trucking-mississippi-we-need-keep-industry-thriving/2266644001/