Nurses, Doctors, Healthcare Workers Subjected To High Risk Of Workplace Injury, Violence, Report Shows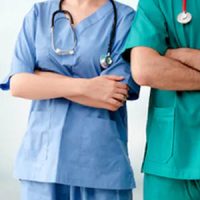 When we are injured, we typically seek out treatment at the emergency room, urgent care, or, in the fortunate case that we can wait, our regular healthcare provider. Indeed, we depend on and trust the dedicated nurses, doctors, and other healthcare professionals in our communities to take care of us when we are injured or sick, and to get up back on our feet. However, something that we may not realize as we leave our local doctor's office or hospital is just how at risk the very people who save us every day are to workplace injury, and, in particular, workplace injury caused by violence. The sad reality is that nurses, doctors, and other healthcare professionals are faced with a high-risk of workplace injury, often due to the tempers of both their own patients, and their patients' visitors.
According to a late December, 2022, Newsweek report, there were an astounding 57 assaults on healthcare nursing employees per day in 2022. The report notes that, breaking that statistic down, that figure translates to more than two workplace assaults on nursing staff per hour, every hour of the day, and year-round. While, according to Newsweek, 20% of all workplace injuries in the United States occur in the healthcare profession, healthcare workers are subjected to a whopping 50% of all workplace assaults in the United States. Newsweek also reports several other shocking facts regarding workplace injury in the healthcare field:
Healthcare and social services workers are five times more likely to be injured on the job than workers in the United States overall, and that number has been rising for over more than ten years;
Healthcare workers are at risk of all types of assault and violence in every workplace setting – this includes both verbal and physical abuse and even sexual assault;
Workplace violence in healthcare increased by 52% in the United States between the years 2010 and 2019;
Workplace violence in hospitals specifically rose by 95% during that same timeframe.
The Newsweek report notes that, although it would be easy to blame the COVID-19 pandemic and rising hospital patients for the increase in healthcare workplace violence, the trend was, in fact, already rising prior to 2020.
Help for Injured Mississippi Workers
As demonstrated by the Newsweek article, no job is immune from workplace injury and, unfortunately, workplace injury caused by violence. However, there is help for injured workers in Mississippi. Most Mississippi workers who have been injured on the job and cannot work are entitled to Mississippi workers' compensation benefits. The experienced Mississippi workers' compensation lawyers at the law offices of Lunsford Baskin & Priebe fight for injured workers' rights to worker's compensation benefits. Lunsford Baskin & Priebe offers a free and confidential consultation to learn about your workplace injury case, and to see if they can help fight for you. Contact the law offices of Lunsford Baskin & Priebe today and speak to a Mississippi workers' compensation lawyer about your rights and entitlement to workers' compensation benefits for free.
Source:
newsweek.com/violence-nursing-how-create-safer-work-environment-1768450