What Types of Knee Injuries Can Happen at Work?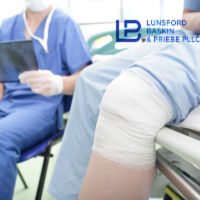 Knee injuries can easily happen at work, either as a result of repetitive motion or a sudden accident, like a slip and fall. These injuries cost time away from work and are extremely painful and debilitating, often taking a long time to heal.
The knee is the second most commonly injured body part that results in time away from work (the back is the first most commonly injured body part).
In addition, one knee injury is equal to an average of 15 lost workdays, although, for some, the recovery period can be many weeks or months, especially if surgery is involved.
The function of the knee
The knee is the largest joint in the body, but it is more than just a hinge; it is responsible for weight-bearing and movement and is a vital part of how most people complete their workdays and daily lives. Knees perform a variety of important functions:
Support the body in an upright position
Help lower and raise the body
Provide stability
Act as a shock absorber
Allow twisting of the leg
Make walking more efficient
The parts of a knee
Unfortunately, as well as being crucial to most of the body's movement, the knee is also a frequently stressed joint with many parts that are vulnerable to injury. The knee consists of:
Tendons: these are thick fibrous cords that connect muscles to bones
Articular cartilage: This covers the ends of the thigh and shin bones and lines the back of the kneecap. Anything that injures this cartilage will cause pain and swelling.
Patella (kneecap): This can break after a fall (or car accident); a break will prevent you from being able to walk or straighten your knee.
Ligaments: These are stretchy cords that connect bones and joints. Collateral ligaments control sideways movement, and cruciate ligaments move the knee joint backward and forward.
Meniscus: These are 2 triangular-shaped cartilages that work as shock absorbers between the thighbone and shinbone.
Knee injuries at work
Repetitive stress injuries:
Tendonitis: Inflammation of the tendon
Bursitis: This is the inflammation of the bursa, which are small sacs of fluid near the knee joint. It can be caused by trauma (a knock or fall) but is also often caused by sustained pressure or overuse. Frequent kneeling, especially on hard surfaces, is a particularly common factor in knee bursitis. Years ago, bursitis was also referred to as "housemaid's knee," for obvious reasons.
Osteoarthritis: Repeated stress on a knee joint can cause the cartilage and connective tissues to deteriorate. This is often called the "wear and tear"
Jobs in which repetitive stress injuries to the knee are most common:
Carpet layer
Bricklayer
Carpenter
Floor installer
Plumber
Miner
Farmworker
Car mechanic
Cleaner
One time injuries:
It is possible to injure a knee in a slip and fall accident, or even by simply twisting in a certain way while turning to walk. Someone could trip over an electrical cord or walk into a piece of heavy machinery.
Common work-related knee injuries:
Fracture of the patella
Fracture of the tibia or fibula
Sprains and strains
Knee dislocation
Posterior cruciate ligament injuries
Anterior cruciate ligament injuries (ACL)
Collateral ligament injuries
Meniscus tears
Tendon tears
Jobs in which trauma injuries to the knee are most common:
Transportation and warehousing
Utilities
Construction
Health care and social assistance
Police and fire protection workers
Mining
According to a 2015 NIH study, state and local government workers had nearly twice the knee injuries requiring days away from work as private industry workers.
Treatments for knee injuries:
Always inform your manager or employer if you have injured your knee. Document everything that happened and all the pain, discomfort, or lack of mobility that you are experiencing.
Don't try to tough it out, because the earlier you are treated, the better. See your physician as soon as possible.
Basic treatment is the same for athletes who injure themselves: rest, ice, compression, and elevation (RICE), as well as an over-the-counter pain reliever or anti-inflammatory, such as ibuprofen.
In some cases, such as an ACL tear or a tear of the inner part of the meniscus, you may need surgery.
A fracture of the tibia, fibula, or patella may also need surgery, and will also require a cast or splint and physical therapy.
If you have injured your knee due to a workplace injury, even if the injury happened over a period of time instead of in one traumatic accident, you are entitled to workers' compensation.
Sometimes workers' compensation insurance companies deny claims because they say that the injuries are not related to the job. They may also try to downplay the seriousness of injuries. This is why it is to your benefit to consult with an experienced workers' compensation attorney.
When your employer denies your knee injury claim, our workers' comp attorneys are here for you.
Shoulder and knee injuries are frequent sources of workers' compensation denials in Louisiana. If the injury is a sprain or strain, the workers' comp carrier will say you don't need to miss work. If the damage is so severe that you need a replacement joint, the insurer will say you have a degenerative condition that is not work-related and not entitled to benefits.
When the insurance company is blocking you at every turn, you need help from experienced and dedicated workers' compensation attorneys who know their way around the system and won't let the insurance company get away with their tricks. At Lunsford, Baskin & Priebe PLLC, all we do is handle workers' compensation claims for injured workers in Louisiana. You focus on getting better and let us focus on getting your benefits.
For help obtaining workers' compensation benefits for a knee injury in Louisiana, call Lunsford, Baskin & Priebe PLLC for a free case evaluation at 504-788-2994 or contact us online.