What if Your Employer Denies Workers' Compensation?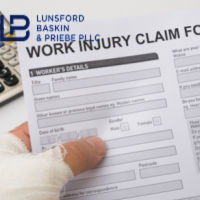 Compensation for workplace injuries may seem straightforward — you get hurt, you file a claim, you get paid — but unfortunately, it's not always that simple. While most employers are required to have insurance coverage in case of a workplace accident, there are still reasons a claim may get denied.
Luckily, there are options for injured workers if their compensation is denied. First, you can file an appeal to change their decision; however, time limits must be adhered to. If your claim is still denied, you can also seek the help of an experienced workers' compensation attorney. They can walk you through the process and help you fight to get the compensation that you deserve.
Reasons Why Workers' Compensation Claims Get Denied
No matter the reason, any worker injured on the job has a right to apply to receive workers' compensation benefits. However, as employers and insurance companies are in the business to make money, not lose it, they will often fight to deny benefits if possible. It's unfortunate, and while many employers are ethical and understand that losing money in these cases is just part of the job, some will find whatever reason they can to avoid reporting or approving the claim.
Some of the most common reasons for workers' compensation claim denials include:
Injuries are not severe enough: While workers should file a claim no matter how small the injury, it can still get denied if it doesn't meet certain standards — for example, if no medical treatment is necessary or if it does not affect your daily life or your ability to return to work.
The injury and/or claim was not reported in time: State laws determine how long you have to initially report the incident to your employer as well as how much time you have to then file an official claim. If either of these deadlines is not met, the employer or the insurance may deny your claim.
False claims or disputes that the injury was work-related: If you lie about anything relating to your injury, even if it did still happen on the job, your claim could be denied. Additionally, some employers and insurance companies will try to find proof or evidence to say that the injury was not work-related and happened elsewhere. They may even use your past medical history against you to say that the injury stemmed from a previous injury.
Delayed medical treatment: After sustaining a workplace injury, it is vital for the injured worker to seek medical attention right away, even if the injury was minor. Lack of medical evidence can lead to a denial. Even if you decide to seek treatment at a later date, it may still be difficult to prove that the injury did not worsen or occur from something else outside of work.
Next Steps: Appealing a Denied Workers' Comp Claim
While there are situations where genuine mistakes were made when a claim was filed, it is rare. Still, when you receive your denial letter, you should look it over carefully to ensure that everything reported is correct. If you find any mistakes, you can contact the claims adjuster to have the issue fixed, which may result in a claim approval.
However, this does not happen often. Even if a mistake was made, the likelihood of the claim being approved is minimal. Your next steps after receiving a claim denial will be to file an appeal. Your denial letter will come with instructions for how to do so. Keep in mind that though you have every right to an appeal, the process is long and complicated. For this reason, it is important to seek out an experienced attorney to handle the legalities of your claim appeal.
Seeking Legal Help
The process of filing an appeal comes with strict deadlines and challenging legal procedures. Trying to go it alone will likely result in another denial. Working with an experienced attorney ensures that you are organized and prepared to answer any questions put forth in a manner that will win you your deserved benefits. It's common for workers to avoid lawyers due to the belief that they will cost them more than the compensation they get out of it, but this is untrue. Most workers' comp attorneys receive a small percentage of the benefits you receive, and they only get paid if you win.
Connect with an Experienced Mississippi Workers' Compensation Attorney
The process of filing a claim for workers' compensation or for an appeal of a denial is frustrating and difficult to navigate. If you feel you are receiving unfair treatment and are struggling to get the benefits that you deserve, working with an attorney can make a huge difference.
For a free consultation with an experienced workers' compensation lawyer in Mississippi contact Lunsford, Baskin, and Priebe, PLLC. After-hours visits are available.