Tragic Multi-Vehicle Car Accident On Hattiesburg Highway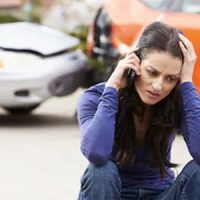 The highway can be a very dangerous place to travel, especially when objects are abruptly put in the path of drivers. A highway can instantly become unsafe when standing objects – such as other cars, debris from open trunks, and plants and shrubbery — are put into the flow of traffic. When objects come into the path of cars going at high speeds, highly fatal accidents, such as collisions, can occur. Unfortunately, one such fatal car accident occurred this weekend in Hattiesburg, involving multiple vehicles and a stopped and abandoned car on the side of the road. The tragic accident demonstrates what can happen when an object, in this case an abandoned car, is put in the way of drivers, even on what appears to be the side of the road.
Local news reports that around 11 p.m. on Sunday, August 7, a multiple vehicle accident occurred on Interstate 59 around the 63-mile-marker when a Honda Accord collided with a Toyota 4Runner that had been abandoned on the side of the road. The Honda was traveling southbound at the time. When the Honda hit the 4Runner, it caused the driver of an 18-wheeler semi-truck to drive off of the highway into the trees, and the truck ultimately caught on fire. The terrible accident resulted in the death of the truck driver at the scene. The driver of the Honda was taken to the hospital.
Fatal Car Accidents Caused by Collisions and Rollovers
No matter how diligent and careful a driver tries to be, it is impossible to prepare for and avoid all hazards of the road. Unfortunately, car accidents and fatalities caused by car collisions are not rare. According to one report, based on United States Department of Transportation, National Highway Traffic Safety Administration data, car collisions tragically took over 30,000 lives in the United States in 2020. Collisions with fixed objects caused 10,949 fatalities, or roughly one-third of car collision-related fatalities. Collisions with moving motor vehicles totaled 13,622 fatalities that same year. The bottom line is that car accidents resulting from collisions happen all too often, no matter how hard we may try to avoid them.
How to Get Help When A Car Accident Occurs
When a car accident occurs, no matter the type of accident, the initial physical and mental trauma of the accident and injuries may soon be overcome by worries of how to deal with the legal and financial aftermath. An accident may result in medical bills, loss of income, emotional distress, physical pain, and even property loss, and dealing with legal rights on top may seem overwhelming. However, if you are involved in a car accident, you should immediately seek out the help of an experienced car accident lawyer. Our experienced Hattiesburg personal injury lawyers at Lunsford, Baskin & Priebe provide a free and confidential consultation to hear your side of the story and help evaluate your case. Contact us today to speak to one of our car accident lawyers for free.
Source:
iii.org/fact-statistic/facts-statistics-highway-safety