South Carolina Woman Killed On Wedding Evening By Drunk Driver While Riding On Golf Cart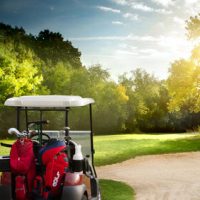 For most people, a wedding is a time of celebration. A wedding is an opportunity for families and friends to get together to celebrate the love between a couple, to eat and drink together, and to dance the night away. It is a rare thing that a bride or groom, or their friends and family, would suspect that tragedy could strike on the eve of a great and momentous celebration of love. Unfortunately, sometimes it does. Indeed, such was the case on a fatal Friday evening for a South Carolina bride who was hit by a drunk driver on her wedding night.
According to local reports, the drunk driving accident occurred on Friday, May 1, at around 10:15 p.m. in the evening in Folly Beach, South Carolina. Newly-wed bride Samantha Hutchinson was traveling on a golf cart with her new husband, Aric Hutchinson, and one other person from their wedding party, when they were struck by a gray Toyota vehicle driven by 25-year-old Jamie Komoroski. Unfortunately, Samantha Hutchinson was killed in the drunk driving incident. According to reports, Komoroski "smelled of alcohol" and told officers that she had "one beer and one tequila drink about an hour before the crash." Officers noted that Komoroski appeared to be "unsteady on her feet and had trouble standing." They asked her to rate her level of impairment from 1 to 10, and Komoroski replied with an "8". Officers reportedly attempted to conduct a field sobriety test with Komoroski, but she then became uncooperative and refused. Komoroski is reported to have a history of speeding-related charges, according to court records, and was taken into custody. Komoroski was later charged with three counts of felony DUI resulting in bodily injury and/or death.
For the family members of the newly-wed Hutchinsons, the tragic drunk driving incident has turned the time for celebration and love into a time of grief and anguish. What can a family do when a loved one is killed by a drunk driver? Is there any justice for the family outside of the criminal system?
Wrongful Death Claims in Mississippi
In Mississippi, when a loved one is killed in a car accident due to the negligence or fault of another driver, certain family members may have options under wrongful death laws. Under wrongful death laws, certain family members can bring a lawsuit against the driver at fault and other responsible parties for compensation due to their loss of a loved one. If your loved one has been killed in a car accident in Mississippi due to the fault of another driver, it is important to discuss your case as soon as possible with an experienced Mississippi personal injury lawyer. The experienced Mississippi personal injury lawyers at Lunsford Baskin & Priebe offer a free and confidential consultation to learn about your potential case, and to see if they can help you get justice. Contact Lunsford Baskin & Priebe today and speak to a lawyer about your case for free.
Source:
counton2.com/news/local-news/charleston-county-news/details-released-in-folly-beach-golf-cart-crash-that-killed-new-bride/