Seven Workers Killed In Pennsylvania Candy Factory Explosion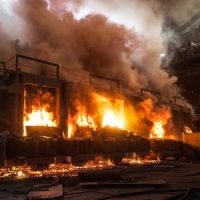 Few things could be more terrifying for the average everyday worker than a massive explosion, leveling the workplace and leaving chaos, confusion, and death in its wake. However, that was just the case for the workers at a Pennsylvania candy factory last week. According to news reports, the fatal explosion occurred on the evening of Friday, March 30th, a little before 5:00 p.m. at the West Reading, Pennsylvania R.M. Palmer chocolate factory. The blast leveled the factory, as well as the surrounding community.
The victims of the blast, seven workers who worked at the R.M. Palmer factory, have now been identified as Amy Sandoe, Domingo Cruz, Xiorky D. Nunez, Susan H. Halvonik, Michael D. Breedy, Diana M. Cedeno, and Judith Lopez-Moran. The cause of death, at least during the preliminary investigation of the blast, for all seven of the workers has been declared as related to blast injuries from the factory explosion, however, a full-blown investigation is currently pending, and final results are expected within approximately a month. At this time, authorities report that all of the individuals who were deemed as missing during the blast have been accounted for. In addition to the seven workers who were tragically killed in the factory explosion, at least an additional eight people were hospitalized as a result of the blast. The city of West Reading is reeling from the terrifying event, and investigations into the blast and its cause or causes are ongoing.
Workers' Compensation Death Benefits and Worker Deaths in Louisiana
Although nothing can repair the loss of a family member who has died as a result of workplace injury, certain family members of workers who tragically passed away on the job may be entitled to benefits under workers' compensation laws. In Louisiana, although workers' compensation benefits are usually reserved for workers who have been injured on the job, Louisiana workers' compensation laws entitle certain close family members, deemed to be dependents of the deceased worker, to workers' compensation death benefits such as wage replacement benefits or a lump sum payment, and funeral and related expenses. To determine whether you may qualify for Louisiana workers' compensation death benefits, it is best to speak with an experienced Louisiana workers' compensation lawyer about your rights and options.
Help for Louisiana Workers and Their Family Members
In addition to providing a remedy to the surviving dependents of a worker who has passed away due to a fatal on-the-job accident, Louisiana workers' compensation laws also entitle injured workers to workers' compensation benefits if they are disabled as a result of a workplace injury and are unable to work. Whether you are an injured worker or the family member of a worker who has been killed at their job, it is important to learn about your rights and entitlement to Louisiana workers' compensation benefits. The experienced Louisiana workers' compensation lawyers at Lunsford Baskin & Priebe offer a free and confidential consultation to learn about your workers' compensation case and to see if they can help fight for you to get your benefits due. Contact Lunsford Baskin & Priebe today and speak to a lawyer about your rights for free.
Source:
cnn.com/2023/03/27/us/west-reading-pennsylvania-candy-factory-explosion-monday/index.html