Questions to Ask a Workers' Comp Lawyer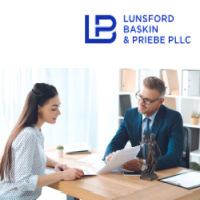 If you experience a work injury, you should be entitled to workers' compensation in most situations, but employees are often denied full coverage, or their claim is outright denied by the insurance company. If you're injured at work, you need to get in touch with a workers' compensation lawyer as soon as you can to ensure you receive the full benefits you deserve.
When speaking with a workers' compensation lawyer, it can be difficult to find where to start with your claim. Additionally, it's challenging to know what to look for when determining which firm to hire for your case. Fortunately, we've compiled a list of questions you can ask law firms so that you can move forward with the hiring process and receive your workers' compensation benefits.
What Questions Should I Ask Before Hiring a Law Firm?
There are many different law firms and attorneys that handle workers' compensation cases. To find the legal representation that's right for your case, ask lawyers the following questions:
Do You Specialize in Workers' Compensation?
Numerous law firms handle workers' compensation cases but do not specialize in them. You need to find expert attorneys who focus on workers' compensation law. Here at Lunsford, Baskin, & Priebe, we specialize in workers' compensation and personal injury cases.
How Long Have You Practiced Workers' Compensation Law?
Even if you find a firm that specializes in workers' compensation, you need to verify that they have many years of experience to ensure that they have the expertise to handle your case.
How Many Workers' Compensation Cases Have You Handled?
Again, experience is vitally important for settling your workers' compensation case or winning your case in court.
Have You Worked On a Previous Case That's Similar to My Injury?
In addition to having invaluable experience handling workers' compensation cases, you also want a lawyer who has handled claims and injuries similar to yours. Additionally, consider hiring a lawyer who's dealt with injuries that have occurred in your profession, such as construction, manufacturing, etc.
Will I Be Able to Communicate With You During the Case?
Many law firms utilize paralegals and other individuals to handle those who have suffered from work injuries. You need to be able to contact your lawyer directly if you have questions.
What is Your Success Rate?
Your attorney should be able to settle and win cases. The firm you hire should have a success rate of 90% or more in handling workers' compensation cases.
What Questions Should I Ask About My Workers' Compensation Claim?
During the hiring process or after you've hired a law firm, you need to ask questions regarding your claim to get you on the right track. Ask your legal representation the following questions:
Can I File a Personal Injury Claim in Addition to Workers' Compensation?
In addition to filing a workers' compensation claim, you may be able to take legal action against a third party. You may have a case if your injury resulted from another person's negligence.
What Damages Can I Recover From My Work Injury?
Workers' compensation covers your medical bills and lost wages. If you sue a third party, such as a negligent co-worker, you can recover damages for pain and suffering, loss of consortium, and other expenses not covered by workers' compensation.
Does Filing a Personal Injury Lawsuit Affect My Workers' Compensation Benefits?
There are cases in which receiving a personal injury settlement impacts your ability to receive workers' compensation. You may even need to return some of the money you received for workers' compensation. Communicate with your lawyer and ask them questions to determine whether engaging in a personal injury lawsuit is right for you.
What Questions Should I Ask About the Workers' Compensation Claim Process?
The process of receiving workers' compensation benefits can be arduous and time-consuming. Ask your legal representation the following questions about your claim:
How Long Does It Take to Receive Workers' Compensation Benefits?
This will depend on your unique case, so you'll need to speak with a lawyer to get a clearer picture of how long the process may take.
When Should I Settle the Claim?
Again, this is a case-by-case basis and your individual situation will determine the answer. Work with your legal representation to determine when you should settle.
Should I Accept a Lump Sum Settlement in My Workers' Compensation Case?
You would likely want to accept a lump sum settlement most of the time, but in the event that you're also applying for social security disability (SSD) benefits, receiving a lump sum has the potential to negatively impact your SSD.
What Should I Do During My Workers' Compensation Claim?
This varies, so discuss it with your lawyer. Your legal representation will likely suggest that you not discuss your case publicly or post about it on social media.
Hire Expert Mississippi and Louisiana Workers' Compensation Lawyers
Here at Lunsford, Baskin, & Priebe, we handle numerous workers' compensation cases, and we have years of experience helping victims across Mississippi and Louisiana. If you or a loved one were injured at work, call our Jackson office at 601-488-3975 or call our New Orleans office at 504-788-2994. You can also click here for a free case evaluation.