Most Common Retail Worker Injuries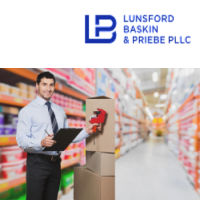 People often associate workplace injuries with labor-intensive jobs like construction, manufacturing, and warehousing, but workplace injuries and illnesses can occur anywhere. In fact, CBS News reported that retail workers are actually at a higher risk of suffering from injuries than workers in construction, manufacturing, oil drilling, and mining. In 2018, out of every 100 retail employees, 3.5 suffered from a workplace injury or illness.
In this blog, we discuss common retail store hazards, the most frequently occurring injuries among retail workers, and what you need to know about retail workers' compensation.
Common Retail Store Hazards
Retail stores are full of potential hazards that can injure employees. Although an injury can occur in any retail environment, there are types of retail stores where it's especially common. The retail stores with the highest likelihood of workplace injuries include pet stores, tire stores, supercenters, warehouse clubs, and garden equipment stores. Pet stores contain animals that can injure workers, and garden equipment stores are full of hazardous sharp objects. Supercenters, tire stores, and warehouse clubs contain heavy objects that are often stored on high shelves and pallets, making them highly dangerous for workers.
Other risks prevalent in retail stores include:
Vehicle accidents
Slip and fall accidents from wet floors
Repetitive motions injuries
Ladder accidents
Heavy equipment accidents
Sharp tool accidents
Employee violence
What Are the Most Common Injuries in Retail?
In 2019, AmTrust Financial put together a detailed Retail Risk Report that tracks the most common injuries in retail stores. These include:
Muscle strains and sprains: Muscle strains and sprains are the most common workplace injuries in retail. They can result from a sudden accident, such as tearing a muscle when restocking, or from repetitive motions, like developing shoulder pain from scanning items for hours a day. Commonly affected areas include the back, arms, and shoulders.
Scrapes, cuts, and punctures: Employees often become injured when handling sharp tools, like box cutters and knives. This is especially common for retail workers who handle packaging and unboxing items. Scrape, cut, and puncture injuries may be minor or employees could suffer from severe lacerations.
Slip and falls: Slip and fall accidents are the third most common retail injury, and they typically result from wet or slippery floors, cluttered aisles and walkways, and uneven walkways and parking lots. Additionally, retail workers who restock from a ladder or scaffold are at risk of falling and suffering from broken bones, muscle strains, and bruises.
Being hit by objects: Retail workers often face the hazard of falling objects or hitting an object that was improperly shelved. Being hit by an object can lead to both mild and severe injuries depending on the weight of the object and how high it was.
Vehicle accidents: Although motor accidents are only the fifth leading cause of retail injuries, they're one of the main causes of retail fatalities. This is especially the case for retail stores that offer delivery services such as grocery stores, florists, and automotive suppliers.
Retail Workers' Compensation
Workers' compensation is a type of insurance that compensates employees for workplace injuries and illnesses. It covers compensation for medical bills, any wages lost while recovering, and vocational rehabilitation.
For example, if you become injured from a dog bite while working at a pet store, you would be eligible for workers' compensation for your medical bills treating the wound, and if you need to take time away from work to recover, you would be eligible for compensation for the wages you lost. Unfortunately, the compensation you receive for lost wages is only ⅔ of your pre-injury earrings, so, for example, if you made $400 a week, you would only qualify for $266.66.
Even if you were at fault for your own injury or illness on the job, you still have every right to collect workers' compensation.
Injured at Work? Contact a Workers' Compensation Attorney
Although receiving workers' compensation for your retail injury or illness should be a smooth process, employers and insurance companies often put up roadblocks to deny or underpay workers' compensation benefits.
They may try to avoid paying your claim by arguing that your injury isn't severe or that you weren't doing your job at the time of the injury. Don't let your employer and their insurance company take advantage of you—you deserve compensation for your injury or illness. If you're having difficulty receiving full workers' compensation benefits, contact a workers' compensation lawyer.
If you're injured in Mississippi or Louisiana, contact the workers' compensation lawyers at Lunsford, Baskin, & Priebe, PLLC. We've helped numerous injured and ill employees receive the money they deserved from insurance companies for medical bills and lost wages. You can call our Mississippi office at 601-983-2667, and for our Louisiana office, call 504-788-2994. You can also click here to schedule a free, no-risk case evaluation.