Complex Regional Pain Syndrome and Workers Compensation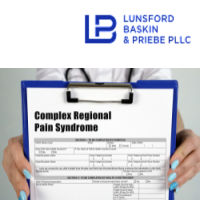 Workers can develop chronic pain for varying reasons, especially if their job involves strenuous activity. Though many workers' compensation claims are filed for specific incidents that cause an injury, you can receive benefits for chronic injuries that develop over time. However, it is often more challenging to prove a chronic pain injury is work-related.
One type of chronic pain injury that workers can develop is complex regional pain syndrome (CRPS). CRPS is rare and difficult to diagnose, but it can affect workers as a result of work performed on the job. If you develop chronic pain and think it might be work-related, you will need to work with an experienced attorney.
Proving that chronic pain injuries, such as CRPS, are work-related is difficult without the help of a workers' compensation attorney. You will need to gather sufficient evidence to prove your case to the insurance company. Often, insurers will look for any way possible to deny claims, but with an attorney advocating for your rights, you are more likely to have your claim accepted so you can get the benefits you deserve.
What is Complex Regional Pain Syndrome?
Complex regional pain syndrome is a broad term used in the medical community to describe chronic pain and inflammation that typically affects an arm or a leg. Typically, CRPS follows after someone has sustained some sort of injury to their arm or leg, but the initial injury can vary and does not necessarily have to have been severe for CRPS to develop.
There are two types of CRPS:
Type 1: CRPS type 1 is the most common and occurs after an injury or illness that does not directly damage the affected limb. For example, someone with type 1 may have initially only hurt their finger, but with time, CRPS can develop and affect the entire arm, not just the area around the finger.
Type 2: CRPS type 2 develops after the nerves have been damaged after a very distinctive injury. So while type 1 can develop after any sort of trauma or injury, type 2 develops in relation to a specific injury where nerve damage was sustained.
What Causes Complex Regional Pain Syndrome?
It can be challenging to diagnose CRPS as medical professionals aren't entirely sure what causes it to occur. Generally, it is thought to be triggered by trauma sustained in the arms or legs and from an abnormality of the peripheral and central nervous systems. The initial trauma can vary greatly, however. CRPS can develop after a fracture, an infection, surgery, a heart attack, or even just a sprained ankle.
How Do I Tell If I Have CRPS?
Again, diagnosing CRPS is often difficult. This is not only because doctors are unsure what causes it but also because the symptoms can change over time and vary greatly from one person to the next. However, some initial signs that may signal you have CRPS include pain, swelling, redness, and changes in temperature or hypersensitivity to cold or touch.
As time goes on, those with CRPS may notice their limb become cold and pale, and the limb may swell and undergo skin and nail changes. They may also experience muscle spasms and a tightening sensation in the affected limb. For some, the symptoms may simply disappear on their own, but others may require treatment and can develop complications such as atrophy and muscle contracture.
The full list of possible signs and symptoms include:
Chronic burning pain in a limb, hand, or foot
Throbbing pain
Sensitivity to touch, pressure, or cold
Swelling in the affected limb or area
Changes in skin color that range from white, pale, and blotchy to red or blue
Changes in skin temperature
Changes in skin texture, such as skin becoming tight, thin, smooth, or shiny
Joint stiffness
Muscle spasms
Weakness
Atrophy
Limited ability to move the affected limb
Changes in hair and nail growth
Is CRPS Covered By Workers' Compensation?
Any injury or illness that occurs as a result of work performed on the job is covered by workers' compensation, including complex regional pain syndrome. However, the challenge of getting coverage for this type of injury comes from the difficulty of proving how it developed. Insurers may try to argue that your CRPS developed due to some other injury that was not sustained on the job, and proving they are wrong is not easy.
For this reason, it is essential that you work with an experienced workers' compensation attorney and seek medical attention as soon as you suspect you are developing CRPS. An attorney can help you fight against insurance companies to prove that your CRPS is work-related; however, you must also do your part by keeping track of your medical records and documents any time you see your doctor.
As symptoms of CRPS develop over time and can come and go, insurers will likely try to deny your benefits. They will claim that there is insufficient evidence or that the injury does not justify receiving benefits if the symptoms are not always present. However, if your CRPS affects your ability to work and requires time off, you have a right to file a claim.
Connect With an Experienced Louisiana and Mississippi Workers' Compensation Attorney
Though proving CRPS is work-related and requires benefits if difficult, it is not impossible. Our team has experience handling a number of cases involving complex injuries like CRPS. We are dedicated to helping our clients get the benefits they deserve.
For a free consultation with an experienced workers' compensation lawyer in Mississippi and Louisiana, contact Lunsford, Baskin, and Priebe, PLLC. After-hours visits are available.