Mississippi Construction Worker Suffers Fatal Fall On The Job, Construction Safety Issues Highlighted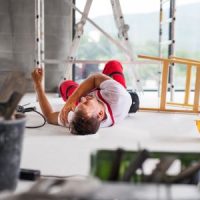 The small town of Pelahatchie, Mississippi was dealt a big and fatal blow early last month when a Mississippi construction worker fell off of a roof during work on a project, and later died from his injuries. The worker, Timothy Brister, was working on the roof of East Rankin Academy, when he fell. He was flown to hospital, but, tragically, died just one day later.
Mr. Brister's terrible accident is not an isolated accident when it comes to construction work. Construction is a dangerous job, full of hazards, including falling objects, sharp tools, heavy machinery, heights, extreme temperatures, and other risks to the safety and lives of the hardworking workers out on construction sites every day. But what exactly are some of the major safety risks in construction work, and how often do construction work accidents occur? Construction tech company Procore has released 2023 statistics showing just how dangerous construction work is.
According to Procore, the construction industry has experienced more deaths than any other industry in the United States since the year 2008. Procore notes that this figure does not include deaths by suicide, but that construction work also has the highest rate of fatalities by suicide. Procore notes at the outset that "Construction professionals have higher injury rates than most other professions and experience some of the highest rates of alcohol abuse. And if they survive a full career on the jobsite, workers can expect an increased risk of hearing impairment, mobility problems, and respiratory issues." In addition, Procore provides these shocking numbers that further reveal the dangers of construction work, and particularly falls in construction work:
There were 1,008 deaths in construction in 2021;
The death rate in the construction industry for construction workers is 9.4 per 100,000 workers;
5% of all construction deaths result from either falling, being struck by an object, electrocution, or being caught in a machine or by other means;
Falls account for 35% of all construction worker deaths;
1 out of 3 falls in construction work are from a roof;
In 2021, there were 169,200 construction worker injuries;
The most common OSHA safety violation and citation to construction companies in construction work is for failure to provide adequate fall protection.
Justice for Injured Workers in Mississippi
As demonstrated by the numbers, the dangers of construction work, and falling in construction work, is no joke. Fortunately, most Mississippi workers, whether in the construction field or another field, are entitled to workers' compensation benefits if they are injured on the job and are unable to work. In addition, certain dependent family members may be entitled to Mississippi workers' compensation benefits if they lose a loved one on the job. If you or a loved one have been injured at work in Mississippi, contact the experienced Mississippi workers' compensation lawyers at Lunsford Baskin & Priebe for a free and confidential consultation.  Contact Lunsford Baskin & Priebe today and learn about your rights and options.
Source:
wapt.com/article/construction-worker-dies-after-fall-in-pelahatchie/43262310