If You Motorcycle In Louisiana, Know These Motorcycle Safety Facts And Statistics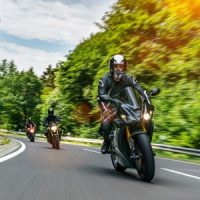 As summer heats up, motorcyclists in Louisiana and throughout the United States are thrilled to hit the road and take beautiful, adventurous, and cooling rides on America's vast interstates and highways. Indeed, motorcycling is an amazing and thrilling way to see the sights and even as a way to commute every day to work. However, motorcycling, as fun as it is, has its fair share of dangers to motorcycle riders, and motorcycling is (maybe fairly) notoriously dangerous in general. If you plan to motorcycle in Louisiana this summer, or anytime soon, these are some facts and statistics from the National Highway Transportation Safety Administration that you should know:
There is no "typical" motorcycle crash. In fact, according to the NHTSA, "a motorcycle crash is a complex event involving the interaction of a human, vehicle, and environmental factors." In more extreme terms, the NHTSA states that "while there is no typical motorcycle crash, what is "typical" is that a motorcycle crash is a violent event."
Over 80% of all reported motorcycle accidents result in injury or death to the person who was riding the motorcycle.
One major cause of motorcycle accidents may be surprising to most people. According to the NHTSA, "many of the causes of motorcycle crashes may be attributed to lack of experience or failure to appreciate the inherent operating characteristics and limitations of the motorcycle."
2,100 motorcycle riders are killed every year in the United States in motorcycle-involved accidents. Motorcyclists are, accordingly, 16 times more likely to die as a result of a traffic accident than other motorists, per mile traveled.
Roughly 43% of all motorcycle accidents involve alcohol. Drinking while driving is always dangerous, but it is especially dangerous when operating a motorcycle because "riding a motorcycle under the influence of any alcohol significantly decreases an operator's ability to operate it safely."
Importantly, a standard driver's license does not allow a person to operate a motorcycle. Approximately 1/3 of motorcycle riders who are killed in motorcycle accidents were, in fact, not properly licensed to operate a motorcycle.
The most important safety device that a motorcyclist can use is a helmet. However, helmets must be properly designed in order to work effectively.
What to do When You are Injured in a Motorcycle Accident Due to the Negligence of Another Driver or Motorcyclist in Louisiana
In Louisiana, whether you are a motorcyclist injured by a negligent driver or a driver of a car injured by a negligent motorcyclist, you may be entitled to monetary compensation under Louisiana personal injury laws. In order to find out whether you may be eligible for compensation, the best resource is to speak with an experienced Louisiana personal injury lawyer. The experienced Louisiana personal injury lawyers at Lunsford Baskin & Priebe offer a free and confidential consultation to learn about your car accident or motorcycle accident and to see if they can help fight for you. Contact Lunsford Baskin & Priebe today and speak to an experienced Louisiana personal injury lawyer about your rights and options for free.
Source:
one.nhtsa.gov/people/injury/pedbimot/motorcycle/safebike/anatomy.html