Horrific And Fatal Forklift Accident Leaves Teen Dead Underscoring The Danger Of Working With Forklifts And Heavy Machines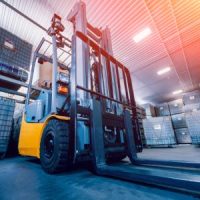 It is easy to get lulled into a sense of safety and security in our jobs. Repetitive work, years of working the same job, and experience with the same tools can make even the most dangerous workplaces – such as construction sites, lumber yards, truck loading docks, and other hazardous sites – seem like home. However, there is no question that a workplace accident can happen to any worker at any time, and it can often come out of nowhere. Indeed, even when we think we are safe at work, we may not be, and tragic, even fatal, accidents can occur.
In Arkansas, a tragic workplace accident involving a teenager and a forklift highlights just how dangerous workplaces can be, especially when heavy machinery is involved. It also highlights just how unexpected a workplace accident can be, and how dangerous when forklifts and other powered industrial trucks and tools are used on the job.
According to local reports, the horrific workplace accident occurred at a Rison, Arkansas, worksite on July 23, 2022. An 18-year-old male worker who was at the site working for Hixson Lumber Company and was attempting to operate the forklift there. The young worker accidentally dropped the key to the forklift and was searching for it while the forklift was parked. The young worker was unsupervised at this time and was tasked with pulling and counting lumber. As the young worker searched for the key, the forklift unexpectedly rolled from the parked position and struck the young worker. Tragically, the young worker died. Investigations into the fatal workplace accident reveal that not only was the teen worker not certified to operate the forklift, but the forklift had also been modified and was in an unsafe condition. Investigators uncovered that the forklift's stock parking brake had been replaced at some point with a makeshift brake, which ultimately failed to keep the forklift in the parked position and allowed it to roll. Federal investigators attribute the terrible accident to Hixson Lumber Company for not following federal safety regulations and have proposed penalties. Hixson Lumber employs workers in many states, including in Louisiana and Mississippi.
Justice for Families of Workers Killed on the Job
The penalties assessed by OSHA are undoubtedly justified, but certainly do not make up for the teen worker's death. Of course, nothing can make up for the pain and loss experienced when a family member dies on the job. In Louisiana, there are some remedies for the families of workers who have passed away on the job, including under wrongful death statutes and under workers' compensation laws.
If you or a family member have been seriously injured in a workplace accident in Louisiana, it is best to learn about your rights and options under Louisiana laws. A good way to do that is to speak with an experienced Louisiana workers' compensation lawyer about your rights and options. The experienced Louisiana workers' compensation lawyers at Lunsford Baskin & Priebe offer a free and confidential consultation to learn about your case and to see if they can help you get compensation due. Contact the law offices of Lunsford Baskin & Priebe today and speak to a lawyer about your workplace injury case today for free.
Source:
magnoliareporter.com/news_and_business/regional_news/article_596fc7f4-9ca8-11ed-b1e8-a3e318cf65b0.html