Head-On Collision In Mississippi Injures 4, Involved Driver's Prior Drunk Driving Convictions Revealed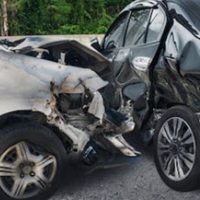 In early February, 2023, a head-on collision in Mississippi sent four people to the hospital. Local news reports indicate that the two-car accident involved a 2015 Dodge Caravan van and a 1998 GMC Sierra pickup truck. The two-car collision occurred on Sunday, February 5 on Kingston Road near the intersection between that road and McCalip Retirement Plantation Road in Adams County, Mississippi. Travis Council, a 41-year-old man, was driving the Dodge Caravan van when he hit the GMC Sierra pickup truck head-on. The GMC Sierra was driven by Payton Clark who was alone in his vehicle at the time of the car accident. Mr. Council was traveling with two passengers and a German Shepherd dog when the accident occurred. Unfortunately, the German Shepherd was killed in the collision on impact, and the rest of the occupants of both vehicles were taken to the hospital for their injuries. Local Adams County law enforcement officers now appear to have questions for Mr. Council, who they have determined has prior drunk driving convictions. Although local law enforcement was unable to conduct field sobriety tests at the time of the accident, due to the severe injuries of those involved, they were able to draw blood to test for blood-alcohol levels. Adams County Sheriff Travis Patten revealed that Mr. Council has prior convictions for driving under the influence in 2006 and 2013. The investigation into the accident and whether driving under the influence was involved was still pending at the time of the report's release.
Drunk Driving and Car Accident Personal Injury Cases in Mississippi
Drunk driving is obviously illegal in Mississippi and those who engage in drunk driving in Mississippi may face criminal charges under Mississippi criminal laws. However, in addition, there may also be recourse under Mississippi civil laws for survivors of those who have been involved in car accidents caused by drunk drivers. Under Mississippi personal injury laws, negligent or reckless drivers who cause car accidents that result in injury to others may be liable to those survivors for damages. Those monetary damages may include compensation for pain and suffering, lost wages, and medical costs, among other relief. Importantly, these claims must be filed in Mississippi civil court by the car accident survivors and there is a limited time to do so. Therefore, it is important for those who have been injured in a car accident in Mississippi due to another person's negligence or recklessness to learn about their rights and options as soon as possible after the accident.
Help with Your Mississippi Car Accident Case
If you or a loved one has been injured in a car accident in Mississippi due to another person's negligence or recklessness on the road, you may be entitled to money compensation. The experienced Mississippi personal injury lawyers at Lunsford Baskin & Priebe are here to help by listening to your story and seeing if they can help get you justice. Contact the law offices of Lunsford Baskin & Priebe today for a free and confidential consultation and learn about your rights to compensation.
Source:
magnoliastatelive.com/2023/02/08/mississippi-sheriff-driver-in-head-on-crash-that-sent-four-to-hospital-has-two-prior-dui-convictions/