Getting Workers' Compensation for an On-The-Job Meniscus Tear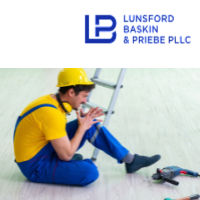 The benefits of workers' compensation can be lifesaving in the event of a serious injury, especially one such as a torn meniscus. Knee injuries are usually very painful and inhibit regular activity like performing work duties. You need time to rest and recover from your injury, pushing yourself to ignore the pain will only lead to more problems. In this blog, we explain how you can receive workers' compensation for a meniscus tear that happened on the job.
What is the Meniscus?
The meniscus is a horseshoe-shaped, rubbery piece of cartilage that provides a cushion between the shinbone and thigh bone. Its' main goal is to act as a shock-absorber when you walk, climb, or squat down. There are two different types of meniscus – the lateral and medial meniscus – which sit on the outside and inside of the knee, respectively.
Symptoms of a meniscus tear include:
Stiffness
Aches and pains on the inner and outer part of the knee
Swelling
Clicking and popping
Increased pain when standing up or walking
Types of Meniscus Tears
There are two common types of meniscus tears which include:
These types of tears are caused by sudden blunt force to the knee or intense hyperextension. This injury is most commonly sustained in physically demanding jobs such as warehouse work. An acute meniscus tear is usually accompanied by a popping or tearing sensation in the knee.
Degenerative Meniscus Tears
Degenerative meniscus tears are caused by long-term wear on the knees and are typically sustained by people who are required to kneel, squat, twist, or climb stairs as part of their job duties. Anything that is physically taxing and frequently repeated during work activity would fall under this category. A person's age and general health are usually contributing factors to this type of injury.
Diagnosis and Treatment
Your doctor will likely need to perform an X-ray or MRI to determine whether or not a meniscus is torn. Tears can range in severity, however. For a less-serious tear, treatments might include rest, pain medications, and physical therapy to help regain mobility. Even if the tear is minor, your doctor will most likely advise you to wear a knee brace for a period of time to help with healing. Unfortunately, other more serious meniscus tears will require surgery.
The recovery time for this type of surgery can be as long as 8 weeks, so it's vital to file for workers' compensation as soon as possible after the injury is sustained. The good news is if you undergo this type of surgery you will regain full mobility in your knee after you have recovered.
Filing for a Claim
Getting the benefits you deserve isn't always simple. Most of the time, employers fight tooth-and-nail to keep from paying workers' compensation, so it's up to you to prove your injury happened within the scope of your employment. To start, have a doctor examine your injury and be sure to tell them it happened on the job.
This way, it will be documented in your medical records that this was a workplace injury and can be used to help support your claim. You must also notify your employer in writing of your injury. Be specific and tell them the date, time, and place it happened as well as the onset of symptoms.
Contact a Louisiana Workers' Compensation Lawyer Today
The Louisiana workers' compensation lawyers at Lunsford, Baskin, & Priebe, PLLC help injured workers get the benefits they are entitled to after an on-the-job injury. Learn more about Louisiana workers' compensation below, and contact Lunsford, Baskin, & Priebe, PLLC if you've been injured in a workplace accident.
For help with a Louisiana workers' compensation claim, contact the workers' comp lawyers at Lunsford, Baskin, & Priebe, PLLC for a free consultation.