Did you Slip and Fall at a Bar in New Orleans and it was the House's Fault? 5 Things You Can Do After a Slip and Fall Accident in New Orleans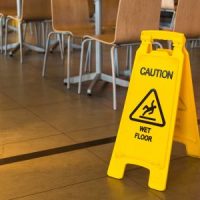 As summer rolls into full swing, so do engagement parties, graduation events, weddings, and endless other reasons to celebrate with a cold brew or nice glass of red. What better place to cool off and meet friends than a bar in the French Quarter or a restaurant in one of New Orleans' famous eateries? However, as the summer heats up, restaurants and bars can get busy with festivity-goers, floors can get slippery and damp, and obstacles can litter the floor of a busy restaurant, waiting for someone to slip up and trip. The truth is, no matter how good our balance is, or how good we think our reflexes are, even the most athletic and stealthy of people can get seriously injured by a slip and fall accident. When these accidents occur in a business, and it is the businesses' fault for not keeping floors and walkways free of slip and fall hazards, an injured victim may be entitled to monetary compensation. Here is what you can and should do if you are injured this summer in a slip and fall accident in New Orleans:
#1. Get Medical Attention As Soon as Possible
It may seem like a no-brainer, but if you have been seriously injured in a slip and fall accident in New Orleans, it is important to seek out medical attention immediately to treat the injury. In addition to treating the injury, getting medical attention from a medical professional or at a hospital creates a medical record of injury that will be critical later on in a civil slip and fall case.
#2. Report the Incident
In addition to seeking out medical attention, reporting the incident to both the business or property owner and local law enforcement authorities is an important step to take after experiencing a serious slip and fall accident. You may ask the business or property owner to make a report of the incident, and you can obtain a report from local law enforcement through a records request.
#3. Document the Accident and Gather Witness Contact Information
Having information about the incident is critical to a potential slip and fall case. Take down the contact information of any potential witnesses who saw the accident first-hand in case you need to contact them later for your case.
#4. Preserve all of the Evidence
Once you've created an incident report and police report, have received medical treatment, and have gathered your witnesses, make sure everything is organized and kept in a safe place. Preserving everything that you have gathered will be important later on in your case when you speak to an experienced Louisiana personal injury lawyer.
#5. Contact an Experienced Louisiana Personal Injury Lawyer
An experienced Louisiana personal injury lawyer can help advise you as to your rights, options, and the next steps in your case. The experienced Louisiana personal injury lawyers at Lunsford Baskin & Priebe offer a free and confidential consultation to learn about your case and to see if they can help you. Contact Lunsford Baskin & Priebe today and speak to a lawyer about your slip and fall case today for free.