Diagnosing and Treating Work-Related Neck Injuries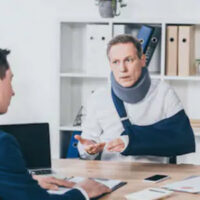 Neck injuries are among the most common work-related injuries in Mississippi. Actions like craning one's neck and turning one's head do not immediately cause injury. But people who do these things dozens of times a day almost every day for decades often develop a repetitive stress disorder. Work-related motor vehicle collisions often cause whiplash, a neck injury which, if not promptly and properly treated, could cause paralysis.
Injuries like these could require extensive medical treatment, extended time off work, or both. Fortunately, a Jackson workers' compensation attorney can obtain no-fault insurance benefits for these victims. These benefits normally include replacement for lost wages and medical bill payment. Some victims might be eligible for additional compensation for their pain and suffering and other noneconomic losses.
Identifying Neck Injuries
Trauma neck injuries, like whiplash, are difficult to diagnose. These injuries normally do not appear on MRIs and other diagnostic equipment. Furthermore, many whiplash victims initially experience pain in their arms and hands. Many victims, and many doctors, do not connect these symptoms with a neck injury.
Occupational neck injuries, such as repetitive stress disorder, are even harder to diagnose. It's also difficult to connect these injuries with a work environment. This connection is essential to a workers' compensation claim.
Many neck injury victims have pre-existing conditions or genetic makeup which makes them especially vulnerable to these injuries. Thanks to the eggshell skull rule, full benefits are generally available in these cases. Victims must only show that their work environments aggravated their pre-existing conditions, as opposed to the other way around.
Furthermore, many neck injury victims do not immediately see their doctors when pain appears. Instead, they try to tough it out for months or even longer. As a result, by the time a doctor diagnoses a work-related neck injury, the claims deadline has passed.
Thanks to the discovery rule, these victims are normally still entitled to benefits. Job injury victims do not need to report their injuries and start the process until they know the full extent of their injuries and they connect those injuries with their job environments.
Treating Neck Injuries
Approved treatment for neck injuries includes extended rest, frequent injections, surgery, or a combination thereof (mostly a combination thereof). If the prescribed treatment is too aggressive, the victim's condition normally gets worse. If the treatment regimen is not aggressive enough, the treatment is essentially a waste of time.
Rest often heals early stage repetitive stress disorder. Doctors usually clear these victims to return to work once they can easily pass range of motion and other tests.
Steroid and other injections strengthen neck muscles. So, they are typically effective in both trauma injury and occupational disease claims, provided the injury is not yet advanced. Several physical therapy sessions every week for several weeks or months might have the same impact.
Advanced neck injuries require surgical connection. Such procedures typically have very long recovery periods, as well as extended physical therapy support sessions.
Reach Out to a Diligent Attorney
Serious neck injuries affect many workers. For a free consultation with an experienced workers' compensation lawyer in Jackson, contact Lunsford, Baskin & Priebe, PLLC. We do not charge upfront legal fees in these matters.
Resource:
mayoclinic.org/diseases-conditions/whiplash/diagnosis-treatment/drc-20378926