Diagnosing And Treating Work-Related Head Injuries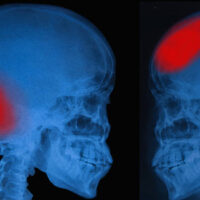 The number of job-related Traumatic Brain injuries, and the number of days lost to such injuries, have increased significantly in recent years. Falls and motor vehicle crashes are the most common causes of work-related head injuries. Assaults which occur on company property are up there as well.
As outlined below, these injuries have complex diagnosis and treatment issues. Therefore, only the best Jackson workers' compensation attorney should handle these claims. Unless the victim gets the proper treatment at the proper time, it's very difficult for the victim to live a meaningful, post-accident life.
Diagnosis
Mostly because many victims do not exhibit signature symptoms, many doctors are unable to diagnose head injuries. These signature symptoms include vomiting and unconsciousness. Doctors frequently ascribe other head injury symptoms, such as disorientation and confusion, to shock from the accident.
Early diagnosis is always important in both illness and injury claims. But it's even more important in TBI claims. If treatment is delayed, more advanced symptoms appear, such as violent mood swings, tinnitus (ringing in the ears), depression, and trouble sleeping. These symptoms, which make it very difficult to function, indicate that the TBI has reached an advanced stage.
Advanced TBIs are much more difficult to treat. Frequently, a brain surgeon must perform risky surgery to reduce brain swelling. Physical therapy is more difficult as well. The more extensive the brain injury is, the less a physical therapist has to work with.
Fortunately, most Louisiana job injury victims may choose their own doctors. Additionally, they may normally change physicians at any time. Therefore, it's easier for job injury victims in the Magnolia State to get a prompt, and proper, diagnosis.
Treatment
As mentioned, TBI treatments are risky and aggressive, especially if the victim does not receive a quick diagnosis. These treatments are quite expensive. Fortunately, workers' compensation usually pays all reasonably necessary medical expenses. That usually includes every medical and medical-related coast, from the first moment of emergency treatment to the last day of physical or occupational therapy.
As the victim improves, the lost wage benefits usually change. Initially, most victims are unable to work at all. So, workers' compensation usually pays two-thirds of their average weekly wage. After a few weeks or months of physical therapy, many victims are ready to accept a light duty assignment, such as a parking lot attendant. In these situations, workers' compensation normally pays two-thirds of the difference between the current and former average weekly wage. Once victims reach their Maximum Medical Improvement (MMI) level, they normally return to work full-time or go on disability, depending on the facts of the case.
The "average weekly wage" is not always easy to calculate. Many workers have fluctuating incomes. For example, some people, especially hospitality workers, get more hours and more tips during school vacations and special events. The AWW must account for these changes.
Reach Out to a Savvy Attorney
Work-related head injuries involve special issues. For a free consultation with an experienced workers' compensation lawyer in Jackson, contact Lunsford, Baskin & Priebe, PLLC. We do not charge upfront legal fees in these matters.
Resource:
ncci.com/Articles/Pages/Insights-Traumatic-Brain-Injuries-WorkersComp.aspx