Delayed Symptoms of Workplace Injuries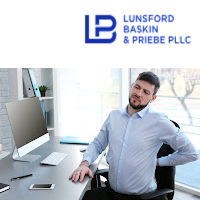 Workers' compensation is a no-fault system available to eligible workers who have been injured on the job. However, there is a time limit on filing a workers' compensation claim. Unfortunately, the symptoms of some injuries are not always immediately apparent, which can lead to workers waiting until it's too late to file a claim.
Delaying treatment for some injuries can also have severe consequences. Not only will you potentially miss out on workers' compensation benefits, but you can also put your health at risk. Even if you feel fine initially, it's crucial for workers to seek immediate medical care to verify whether there is an injury or not.
If you have questions or concerns about workers' compensation claims, the experts at Lunsford, Baskin, and Priebe, PLLC, can help. We assist workers across Mississippi and Louisiana, ensuring their claims are filed in time to receive the benefits they need to cover medical expenses and loss of wages.
Common Workplace Injuries With Delayed Symptoms
The injuries you sustain in a workplace incident can vary greatly depending on the circumstances. However, there are some injuries that are more common than others that are reported more often. Below are some of these injuries and their delayed symptoms:
Traumatic Brain Injury
Slip and fall accidents are common in the workplace, and a common result of these incidents are head and brain injuries. Traumatic brain injuries can encompass a number of different types of brain injuries, such as concussions, hematomas, and contusions. Unfortunately, brain injuries are not typically visible from the outside and often have delayed symptoms. If not immediately treated, however, brain injuries can get much worse and lead to complications.
Some delayed or immediate symptoms of traumatic brain injuries can include:
Drowsiness
Dizziness
Confusion
Headaches
Loss of consciousness
Sensitivity to light and sound
Mood changes and irritability
Slowed response times
Back Injuries
Falls or improper lifting of heavy objects can also lead to back injuries, which are highly common in the workplace. If you tweak or throw out your back, the symptoms often won't show up until the following day. Though some back strains can be very mild, others can worsen with time if you don't rest or treat them properly.
Some delayed symptoms of back injuries to look out for include:
Pain that worsens with movement
Parts of the back that are tender or sore when you touch them
Stiffness and limited mobility
Muscle spasms
Difficulty standing straight
Swelling
Bruising
Pain that radiates into the hips and down the legs
Internal Damage
If you suffer internal damage from an injury, there may not be any outward signs that are immediately apparent. However, internal injuries can be quite severe and can lead to internal bleeding if not treated right away. Hitting your body against a machine, having objects fall on you, or slipping and falling against the ground are all incidents that can cause internal damage.
Some symptoms that may be delayed include:
Dizziness
Weakness
Fatigue
Nausea
Vomiting blood
Headaches
Stomach pain
Changes in bowels
Bruising and swelling of the abdomen
Fainting
The Dangers of Delaying Treatment After a Workplace Injury
If you are involved in a workplace accident but refuse medical care, it can negatively affect your workers' compensation claim and your health and wellbeing. In Mississippi and Louisiana, you have 30 days to file a workers' compensation claim. If you fail to do so in this time, you will not be eligible to receive benefits.
Unfortunately, it is not uncommon for workers to delay filing a claim due to delayed symptoms from injuries they were not aware of. In other cases, workers may delay seeking treatment because they are worried about the cost. But a workers' compensation claim filed on time can help cover the cost of medical expenses and missed wages if you have to take time off work while recovering.
So it's important to seek immediate medical attention to get evaluated. This will give you a better idea of the extent of your injuries and what type of benefits you will need. Delaying treatment is also crucial to ensuring your health and safety. If you return to work while injured, it can put you at risk of getting into another accident and worsening the injury you already have. Some injuries that are not treated right away can lead to severe complications and even death.
Connect with an Experienced Mississippi and Louisiana Workers' Compensation Attorney
If you are injured on the job, you should always seek immediate medical attention—even if you feel fine initially. You never know what type of injury you may have sustained, and waiting to get treated could worsen your injury and affect your workers' compensation claim.
If you have questions about a workplace incident and what you should do, consult with a local workers' compensation attorney. They can offer you guidance and support and help you determine the best course of action to ensure you get the benefits you need to cover your medical expenses and lost wages.
For a free consultation with an experienced workers' compensation lawyer in Mississippi or Louisiana, contact Lunsford, Baskin, and Priebe, PLLC. After-hours visits are available.