Common Mistakes That Can Destroy Your Workers' Comp Case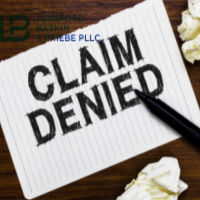 Filing for workers' compensation is generally a straightforward process to follow after you've been injured on the job. However, you must adhere to timelines and some general rules and guidelines that need following to avoid a denial. Though filing the claim itself is not that difficult, there are simple mistakes that are commonly made that can ruin your chances of getting fair compensation for your injuries.
Millions of workplace injuries and illnesses are reported every year. Though many of them receive proper compensation, there are also plenty that do not. Insurance companies and even employers will sometimes look for ways to deny a claim in an effort to avoid having to pay out so much money to their injured employees. Because of these attempts, workers must avoid even the simplest mistakes that can lead to a workers' comp denial or a reduced claim amount. It's often necessary in these cases to work with an experienced workers' comp attorney. They are used to the tactics that employers and insurance companies may use to get out of paying you and can help guide you and walk you through the process.
6 Mistakes That May Result in a Workers' Compensation Denial
Though some of these mistakes may seem obvious now, it's easy to slip up and do things that could harm your chances of winning your claim when you are under stress and worried about getting fair treatment and compensation. Some workers decide to avoid filing a claim altogether if they feel it's not a big deal. Still, it's important to know that it is your right to seek workers' compensation, even for minor injuries.
1. Failing to Report the Incident
One of the most commonly seen mistakes workers often make after a workplace injury is failing to report the incident to their employer. Most states, including Mississippi, have a time limit of 30 days to report an accident and injury that occurred on the job. However, if you wait too long, it may be too late, and you will be denied compensation altogether.
Understandably, some may avoid filing a claim when the injury is minor. Still, you never know how the injury could affect you down the road. No matter the severity, reporting any incident and injury that happens immediately is best. Some workers may even avoid filing a claim out of fear. They may worry that it could cost them their job or result in unfair treatment, but it is your right to report any injury that occurs. If you are mistreated for doing so, you should work with an attorney. It is illegal for an employer to punish you for simply coming forward and reporting an incident.
2. Avoiding Immediate Medical Treatment or Failing to Follow Doctors' Orders
As soon as the injury is sustained, you should seek immediate medical attention. Again, no matter how big or small the injury is, it is vital to have proof of the injury to receive benefits. If there is no documentation of the injury and any treatments prescribed, it will negatively affect your claim. Additionally, once you have sought medical treatment, failing to follow the doctors' orders properly can also result in a denial.
In some cases, you may be referred to another doctor that specializes in workers' compensation cases. However, it is important to continue following your previous doctors' instructions until you are given new orders or treatments. Without a record of your injury or that you followed the prescribed treatments, insurance companies or your employer may claim there is insufficient proof.
3. Falsifying Information About the Incident and Your Injuries
When filing your claim and reporting the incident to your employer, you should always tell the truth. The same goes for when you seek medical treatment and speak with a doctor. Those involved in workers' comp cases have plenty of experience spotting falsified information. If you are caught lying, it can sabotage your claim.
It's understandable that you may worry about not getting the compensation you deserve. Out of fear, you may feel you need to exaggerate your injuries and what happened. Doing so, however, will most likely result in a denial. Even the tiniest of lies can come back to haunt you and affect your claim. When reporting anything about the injury, it's best to be open and honest about how it happened and not exaggerate your pain or symptoms.
4. Failing to Keep Organized Records
Always, always, always keep records of everything. Even if you feel this is a straightforward case, it's essential to take note of everything and keep all files and documents pertaining to the incident organized. This includes writing down everything you can remember leading up to the incident, after the incident, and the names of any witnesses. You should also keep track of your pain and any symptoms and ask for copies of all medical documents, including scans and x-rays. If you're concerned about keeping everything organized, a workers' comp attorney can help guide you and keep you on track.
5. Signing a Medical Authorization for the Insurance Company
It is common in workers' comp cases for the insurance company to reach out to you to ask questions. However, it is in your best interest to avoid giving them any information that could be used against you. No matter how caring and sympathetic they may seem, you should never disclose any information without first speaking to your lawyer.
Asking for authorization to view your medical records is a tactic used by insurance companies in an attempt to reduce the claim amount. They may tell you that they just want to understand the extent of your injuries to give you the compensation that you deserve, but this is almost always a lie. They're actually after access to your files to use any information they find to downplay your injury. If they call, just tell them no and that you need to speak with your attorney first.
6. Accepting a Quick Settlement
Another tactic insurers use is offering a quick settlement, especially if they fear you are working with an attorney. Working with a workers' compensation lawyer helps to ensure you receive the full benefits you deserve, and insurance companies know this. They may call you and try to talk you out of working with an attorney by claiming that it will cost you more money in the long run, but this is just a tactic they use to scare workers into a quick settlement.
Avoiding the hassle of dealing with an attorney or going to court may seem appealing, but a quick settlement often means heavily reduced benefits. Insurers know that they will have to pay more money if you follow through and work with an attorney, so they will do whatever they can to reduce the amount and get you to settle. It's in your best interest to avoid settling and find an attorney that will fight for your rights.
Connect with an Experienced Mississippi Workers' Compensation Attorney
When you are injured on the job, the last thing you want is to be denied workers' compensation. Not only are there often expensive medical bills to pay, but you could miss out on income if you have to miss work while you recover as well.
If you are concerned about getting the compensation you deserve or think you are being treated unfairly, an experienced workers' compensation attorney can help. They have years of experience dealing with these types of cases and will work with you to guide you through the process. Their goal is to help you get the compensation you deserve so that you can recover from your injuries with peace of mind.
For a free consultation with an experienced workers' compensation lawyer in Mississippi, contact Lunsford, Baskin, and Priebe, PLLC. After-hours visits are available.