Common Foot and Ankle Work Injuries and How You Can Seek Compensation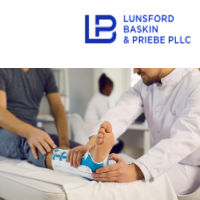 The feet are some of the hardest-working parts of the human body. They carry us wherever we need to go and hold our weight as well as any load we carry throughout our day. In addition to being extremely important, our feet are some of the most vulnerable parts of our bodies as well. 
In fact, studies from the Bureau of Labor Statistics show that there are more than 53,000 work-related foot injuries in America every year. The BLS also states that musculoskeletal injuries are the most common of any type of injury in the workplace.
In this blog, we discuss some of the most common foot and ankle injuries individuals sustain at work, and how you can seek workers' compensation for them.
The Most Common Causes of Work-Related Foot and Ankle Injuries
A lot of things can go wrong while on the job and lead to injury, so it's important for employers and employees alike to be aware of what they're up against. Some of the most common causes of work-related foot and ankle injuries include:
Being struck by an object

Being caught in between or compressed by an object

Repetitive motions

Tripping over an object

Falling from a height

Pushing or pulling heavy objects

Landing from a jump and twisting your ankle

Poorly maintained walkways and working areas

Lack of safety equipment

Negligence
Why Are Work-Related Foot and Ankle Injuries So Common?
One of the main reasons these injuries are so common is that many people do not take an adequate amount of time to stretch their muscles and warm up before they begin working. This often leads to muscle strains and spasms. 
It is also common for workers to skip appropriate training protocols before performing work tasks they are unfamiliar with which can lead to severe injuries in certain circumstances. There is a responsibility for employers and workers alike to receive proper training before performing new or unfamiliar tasks. 
Many jobs require workers to be on their feet for extended periods of time — sometimes all-day — which can lead to fatigue and make employees more susceptible to foot and ankle injuries. In addition to this, many jobs do not have necessary safety measures in place to keep workers from getting injured while at work. 
Filing a Claim for a Work-Related Foot or Ankle Injury
Like with most work-related injuries, the first step is to report the injury to your employer. After you do this, your employer will send out an incident report to their workers' compensation insurance carrier. You will then need to seek medical counsel and receive a diagnosis for your injuries. This is an important step as your doctor will provide undeniable proof of your injury via your medical records. 
Once you've received treatment for your injuries, you must then submit a claim to the insurance company or the Social Security Administration. This can be done either in person or online.
Contact a Louisiana Workers' Compensation Attorney Today
Workplace injuries can happen at any time and can put a heavy burden on you during a time when you need rest and recovery. You shouldn't have to worry about your finances while you recover from a workplace injury, so let us help you. We have the experience needed to fight these insurance companies in court, and we want you to receive the compensation you deserve.
For expert workers' compensation support in Louisiana, contact Lunsford, Baskin, and Priebe, PLLC. Our attorneys specialize in workers' compensation, and we have years of experience helping Louisianans receive the workers' compensation they deserved. Call our office at 504-788-2994, or schedule a free case evaluation by clicking here.