Benefits Available To Injured Gardeners And Landscapers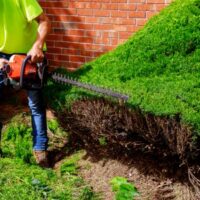 Originally, workers' compensation in Louisiana was an effective Grand Bargain between workers and management. Injured workers surrendered their rights to due in court if management provided a no-fault insurance benefits system. These benefits are especially important for people in high-risk professions, like gardeners and landscapers.
Many people do not believe these jobs are dangerous. But they routinely appear near the top of those "most dangerous jobs" lists. These workers often suffer trauma injuries, usually because of falling tree limbs or other objects. Occupational diseases, mostly repetitive stress injuries, are a problem as well.
Although benefits are available for these victims, the state workers' compensation system has become a bloated bureaucracy that's dominated by insurance company interests. So, these victims need an assertive workers' compensation attorney to ensure they get a fair-sized piece of the pie.
Lost Wage Replacement
Most people have little or no savings. Therefore, when wage income is interrupted, even temporarily, the financial consequences are often devastating. In fact, after a couple of weeks without a paycheck, many people will sign almost any settlement, no matter how fair or unfair it is.
To reduce this financial pressure, workers' compensation usually pays two-thirds of the victim's average weekly wages for the duration of a temporary disability. The AWW calculation must take income fluctuations into account. For example, many hospitality workers make more money during holidays than they make at other times. Workers' compensation benefits account for these missed income spikes.
If the injury is permanently disabling, workers' compensation usually pays a lump sum. The amount varies, mostly depending on the nature and extent of the disability. Keep in mind that "disability" is not just a medical term. The D-word also has educational, vocational, economic, and other implications.
Medical Bill Payment
Lost wages are only part of the equation for injured outdoor workers. As mentioned, the injuries these workers sustain are often serious. They could mean tens of thousands of dollars in hospital bills, not to mention physical therapy, prescription drugs, and transportation. A medevac flight from a remote worksite to a medical facility could be almost as much as the hospital bills themselves.
Typically, workers' compensation pays all reasonably necessary medical expenses. Victims are not financially responsible for any unpaid charges.
The phrase "reasonably necessary" medical expenses is unfortunately a bit vague. Many insurance companies are unwilling to pay for cutting-edge therapy and treatment.
Post Traumatic Stress Disorder, perhaps due to a severe motor vehicle crash, is a good example. Many PTSD patients respond favorably to MDMA (ecstasy) drug therapy. If the insurance company refuses to pay for this innovative yet effective treatment, an attorney advocates for you and keeps the money flowing, so victims can get better.
Reach Out to an Experienced Attorney
Injured landscapers are entitled to substantial compensation. For a free consultation with an experienced New Orleans workers' compensation lawyer, contact Lunsford, Baskin & Priebe, PLLC. We routinely handle matters in Mississippi and Louisiana.