Workers' Compensation Issues For Mississippi Emergency Responders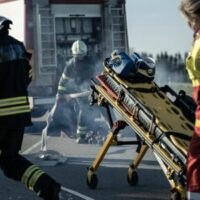 In the Magnolia State, firefighters, police officers, and other emergency responders have significantly higher job injury rates than other workers. Many of these injuries are muscle sprains, muscle strains, and other such injuries which are relatively minor. Other workplace injuries are fatal. Some of these victims die immediately. Others linger for months or even years before succumbing to their injuries.
A Jackson workers' compensation attorney can obtain no-fault benefits for these injured workers. These benefits replace lost wages and pay medical bills. Despite what TV commercials may imply, insurance companies are always reluctant to pay claims. If there is any way out, they'll take it. So, a lawyer helps ensure that you do not have to settle your claim for less than it's worth.
Trauma Injuries
Falls and other trauma injuries are occasionally straightforward. But more often than not, these incidents have coverage and treatment issues.
Many trauma injuries happen during "down time" at the station, or during a training exercise. For some reason, many insurance companies hesitate to cover these claims. Unless first responders are injured directly in their role as an emergency responder, the insurance company often does not consider the injury work-related.
Usually, this approach is a bluff. This argument is specious. It sounds good, but upon closer inspection, it doesn't hold water. If you are on the clock, the injury is usually work-related. Obviously, an attorney never gambles with your claim. But an attorney is much better at legal poker games than an insurance adjuster. This skill sometimes comes in handy.
Trauma injury treatment is sometimes an issue as well. Some doctors, especially some company doctors, take a one-size-fits-all approach. But all injuries are different and all victims are different. Fortunately, Mississippi job injury victims can usually choose their own doctors. So, they get the treatment they need, instead of the treatment the employer wants to pay for.310
Occupational Diseases
Diagnosis issues and questions about pre-existing conditions often dog repetitive stress, toxic exposure, and other occupational disease claims.
Hearing loss is a good example. Many first responders deal with loud sirens and other such hazards. Over time, these noises erode hearing, especially if the victim's ears aren't adequately protected. By the time most hearing loss victims go to the doctor, the claims deadline has passed.
The delayed discovery rule, which a lawyer can enforce, protects victims in these situations. They do not need to report their injuries until they know the full extent of their injuries.
Furthermore, many first responders have pre-existing injuries or other conditions which make job-related illnesses worse. Full compensation is usually available in these cases. Insurance companies cannot use a first responder's vulnerabilities as an excuse to reduce or deny benefits.
Contact an Experienced Attorney
Injured first responders are entitled to substantial compensation. For a free consultation with an experienced workers' compensation lawyer in Jackson, contact Lunsford, Baskin & Priebe, PLLC. We routinely handle matters in Mississippi and Louisiana.
Resource:
bls.gov/iif/oshwc/cfoi/er_fact_sheet.htm