Belmont Mattress Factory Worker Dead After Horrific Workplace Accident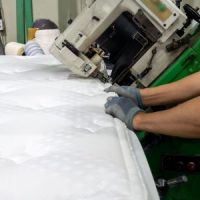 There is no doubt that some jobs are very dangerous. When a workplace includes hazards such as large and heavy machinery, a fast-paced atmosphere, repetitive moments, slippery floors, heights, or extremely high or low temperatures, the chances for a worker to get seriously injured increases dramatically. Still, when a worker goes to work, they rarely go into their shift thinking that they are going to be part of a terrifying and fatal workplace accident that could end their life in an instant. Unfortunately, this very harrowing scenario happened to a Mississippi mattress factory worker earlier this year in April.
Although details about the tragic and fatal accident are somewhat sparse, local news reports provide information that the workplace accident occurred on April 26, 2022, in the morning, at the Comfort Revolution mattress plant in Belmont, Mississippi. Comfort Revolution, according to the reports, is a subsidiary company of the mattress giant Tempur Sealy. The workplace accident victim was factory worker Olivia Hernandez, a 46-year-old woman and resident of Belmont. In response to the accident, Tempur Sealy released a statement acknowledging Ms. Hernandez's death, and stating that "[t]he health and safety of our employees is our highest priority, and we have temporarily suspended manufacturing at the Belmont location while we conduct a thorough review of the accident. Our thoughts and prayers are with our employee's family. We ask that everyone please respect their privacy at this difficult time."
Ms. Hernandez's death highlights the dangers that are ever-present in mattress manufacturing work, and in manufacturing jobs generally. An older article from the online bedding news resource, Bed Times, provides some insight into industry recommendations for making mattress and bedding manufacturing workplaces safer. That guidance includes:
Building a culture of safety – from the top leadership down, a company should embrace and promote a culture of safety within the workplace;
Run a safer manufacturing plant – employers should control hazards within the workplace and engineer physical hazards out of manufacturing facilities;
Conduct regular safety inspections – making sure that regular safety inspections are conducted is key to understanding and preventing workplace accidents;
Creating a safety committee – forming a committee to specifically monitor safety issues can help identify safety problems and nip them in the bud;
Provide ongoing safety training – employee familiarity with safety rules and protocol, and written safety guidance is important for preventing workplace accidents.
Help with a Mississippi Workplace Accident and Mississippi Workers' Compensation
Most injured workers have options when they get injured under Mississippi workers' compensation laws. Workers' compensation entitles an injured worker to benefits, such as wage replacement while they heal from a workplace injury, medical costs, and other forms of compensation and benefits. If you have been injured in a workplace injury in Mississippi, it is important to learn about your rights and options under Mississippi workers' compensation laws. A great resource for learning about your potential entitlement to Mississippi workers' compensation benefits is to chat with an experienced Mississippi workers' compensation lawyer. The experienced Mississippi workers' compensation lawyers at Lunsford Baskin & Priebe offer a free and confidential consultation to learn about your case and to see if they can help you. Contact Lunsford Baskin & Priebe today and speak to a lawyer about your entitlement to workers' compensation benefits for free.
Source:
wtva.com/news/woman-dead-after-workplace-accident-in-belmont/article_4ff17be2-c57f-11ec-ae2f-33167cdbcec9.html